Sangha of the Month for December 2016: Wake Up Little Saigon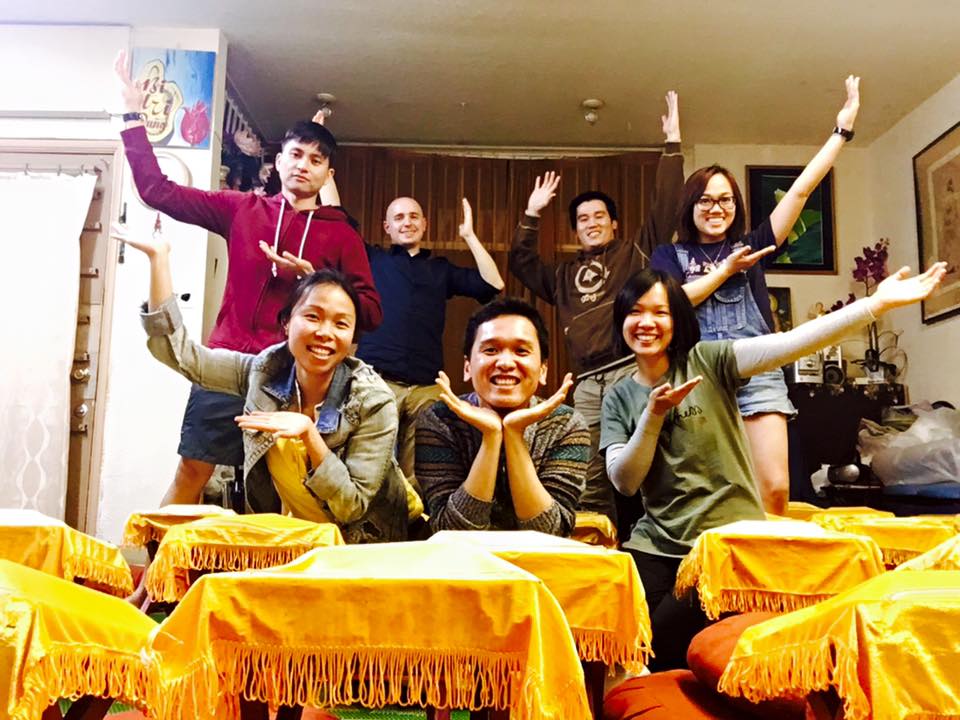 How would you describe Wake Up Little Saigon (WULS)?
Diệp: WULS is a community of young people from Orange County (OC), California, who enjoy gathering together for meditation, fun activities, and support. We come from different backgrounds and have different hobbies, but when we are together (or not), we have one thing in common: we seek peace from within through mindfulness. We bond by sharing what makes us happy, sad, scared, and any other emotions; we also listen to each others' Dharma sharings and sometimes give feedbacks from our own experiences. However, the community is not limited to those who reside in OC. The community welcomes anyone who want the same things because no matter where we live, we inter-are.
Trâm: WULS is welcoming, loving, and caring. We are brothers and sisters outside of our immediate family.
Jason: Early on it was quite small and mostly people you knew, but now we often meet one or two new faces every time. For me, coming to a WULS Sangha meeting is a nice break from a busy week – sometimes a rare moment where you can actually sit in peace and reflect on the week's events.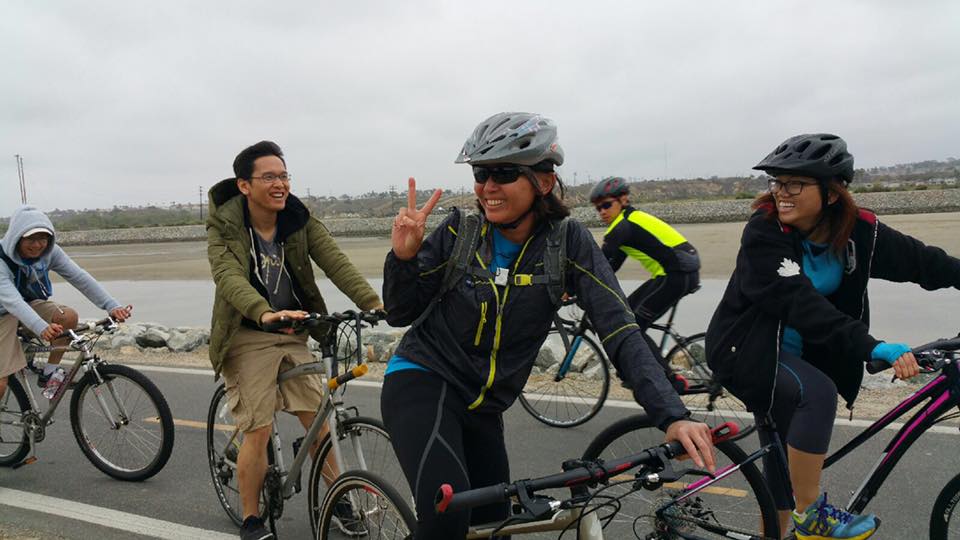 What does Wake Up mean to you?
Cathy: Wake Up means to be mindful and aware of our body and surroundings. It is a reminder to come back to our breathing.
Trâm: For me it means to slow down and look within. I've learned so much from the practice and the Sangha. I've learned to let go and not take things so seriously. I incorporate what I've learned from the practice and Sangha in my every day routine. Walking the dogs used to be a chore, but since learning about being mindful, I am enjoying every moment of the walk instead of just looking forward to the end of the walk. Doing the dishes and sweeping the leaves aren't chores either! It's just a part of my training to do working meditation each day. Also with driving, I am not in a rush to get to my destination; I just take my time knowing that I will arrive eventually. Overall, I've learned to slow down and take in every moment of my life. Remembering to breathe and smile.
What activities you've done so far as a Sangha outside the Sangha sessions?
Thắng: The members in our group have quite different interests besides the shared interest in mindful living. We have volunteered to cook and serve meals to the homeless in our community, fundraised for the Sister's hamlet at Deer Park Monastery by running a 10K race, marched with the monastics at San Diego's LGBTQ Pride Parade, went hiking, kayaking, stargazing, potlucking, and even gathered for an evening of Vietnamese poetry and music.
Which activities outside the Sangha you enjoyed the most and how they nourished you?
Ken: Fun games, physical activities!
Thắng: We like to play children games like kicking the shuttlecock (đá cầu, Vietnamese version of hacky sack).
Tín: Biking to the beach and walking on the sand, watching the meteor shower in the desert of Joshua Tree. These activities are very relaxing; they bring me closer to nature.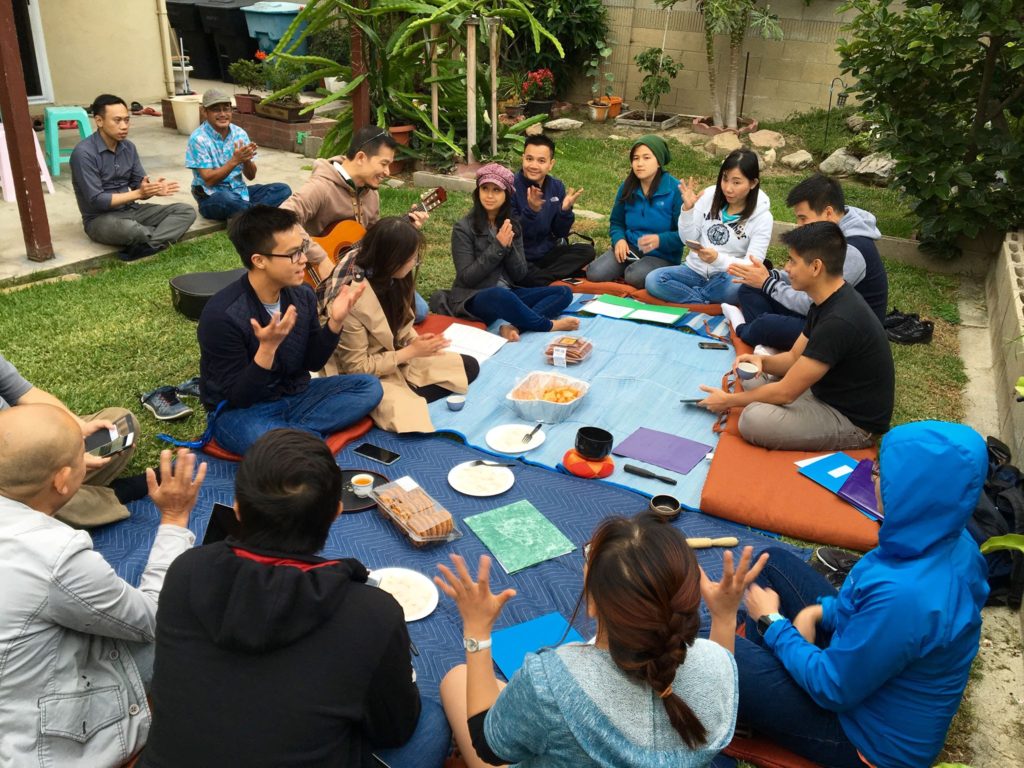 How do you strengthen your brotherhood and sisterhood and practice with the all-ages Sangha?
Thắng: We love our all-ages Sangha! Some of us are transitioning out of the "Wake Up age" so interacting with the all-ages Sangha comes naturally. Our local Sangha, Xóm Dừa (the Coconut Grove Sangha), puts on an annual fundraising luncheon that we have been participating for the last three years. We also enjoy Tết parties hosted by another local Sangha, Nụ Hồng (the Rose Bud Sangha). Being in Little Saigon we have many loving all-ages Sanghas that support us on our path, whether through mentorship or providing food for us at our annual spring retreats.
Is everyone in Wake Up Little Saigon Buddhist?
Thắng: I think most of us were raised Vietnamese Buddhist, meaning we went to Buddhist temples once or twice a year during the holidays, while others went to the temple regularly. Many members were raised in non-Buddhist traditions also.
Have you had any difficult moments? What were they?
Arden: Being a part of WULS has given me the opportunity to look deeply at my wrong perceptions and transform them. When I was younger, I struggled with internalized racism against myself and others of Asian – specifically Vietnamese – heritage. I guess it was a result of me rejecting what I found to be an oppressive upbringing and wanting to fit in with the values of Western culture/society. Being a part of WULS has helped me to recognize the barriers I have constructed within myself that have prevented me from embracing my ethnic roots. I call this my "difficult moment" because initially I did not feel comfortable in the Sangha. Sometimes I still don't on more subtle levels. But now I know how to smile at my discomfort. I have come a long way from changing this attitude, but I know there is still work to be done. My brothers and sisters in the Sangha don't know it yet, but they help me a lot just by being there.
To get in touch with Wake Up Little Saigon, click here to email them or visit their Facebook page.