Sangha of the Month for June 2016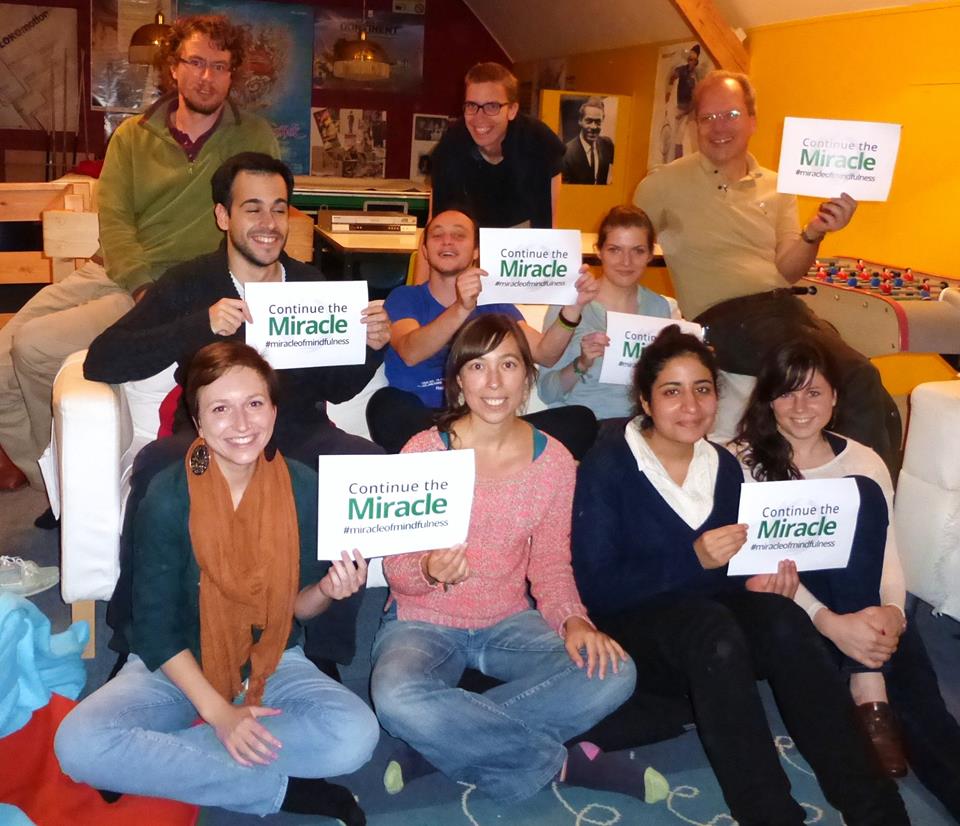 How did Wake Up Leuven get started?
Jazz: The funny thing is Leni lives a mile away from me, but we only met in Plum Village during the 2013 winter retreat. After the retreat was over, Leni went back home and I stayed in Plum Village for a whole year. In 2015, when I returned home, Leni asked me to start a Sangha.
Leni: I think it was your idea.
Jazz: Oh really? I don't remember. I think you planted a seed in me in Plum Village at some point. We started a Sangha because the conditions were sufficient, and we also had friends who were interested. Nothing could stop us.
What kind of people come to your Sangha?
Leni: Jazz knows many students in town, and some of them come. Others are working, and others found us online.
Jazz: A lot of them are actually international students. Somehow, Wake Up has an international appeal. I think students who go on an international exchange are the kind of students who are more willing to try out something new. Our city is a university town, and one-third of the population consists of students. I also met another friend in Plum Village. A few months later, he messaged me to say he was moving to Leuven for an engineering job, so he joined our Sangha. He had no other option.
When and where do you meet?
Leni: We usually meet on Wednesday evenings at Jazz's parents' place. They have a big and very nice attic, and we decorated it as a breathing room. It's perfect to host the meetings. We meet twice a month more or less. Sometimes every week.
Jazz: We tried other venues on the weekends. The problem is that it's on the outskirts of town, so it's not easy to reach my place. We are currently looking for a venue in town. For the Belgians, my place is far from the town centre like 15 minutes.
Leni: For students, it is a little bit far.
On average, how many people show up?
Jazz: between 2 to 15.
Leni: And an average of 5 or 6.
Jazz: When we have special guests, more people come. We've had four monks (one of them was a former monastic) visiting us so far.
Have you had to face any challenges in the Sangha so far?
Jazz: Sometimes people come, and sometimes they don't. So we wonder whether they'll keep coming. We've had a couple of meetings where we've had a few people. Leni and I are busy working and studying, so we don't have that much time to invest. We just organize the meetings. We hope to do some advertising campaign to attract people, but we have had no need to do that because people have been coming so far.
Leni: The challenge is it's a loose group because people come and go. We've been organising the Sangha meetings for a year, and we just had our one-month anniversary in March. I would have liked if we had more solidity in the group. Other than that, we've been very lucky and it's been nourishing.
What do you do during your sessions?
Leni: We start the session with tea. Jazz is a true tea master because he learned it in China. Then we do a guided meditation with some movements, followed by a silent meditation or some sort of teaching, like a text or part of a book to read. We end the session with Dharma-sharing.
Jazz: In the beginning, it was hard to do Dharma-sharing. The people were new and a bit shy to share. We held back the sharing a bit until we were more comfortable with it. Now it's ok to do Dharma-sharing.
Leni: And we usually have some singing!
Do you organize any activities outside the Sangha?
Jazz: We've tried, but it hasn't manifested yet.
Leni: We promote meditation events in Belgium and Netherlands, but not many people have come yet. At the Day of Mindfulness in Antwerp recently, we've advertised it, but no Wake Uppers came.
What's makes Wake Up Leuven special?
(at the same time)
Jazz: Leni
Leni: Jazz
🙂
Jazz: It's informal. It always seems to flow easily. Sometimes, we improvise and it works. It's great to have long-term practitioners in Plum Village in our Sangha whose practice is strong, and they are very confident in what they're doing. That makes a difference. They can guide the rest of the session and feel comfortable. At first, it might have seemed funny to them, but now they go along with the flow and see what people want to do.
Note: This Sangha is currently inactive.