Sangha of the Month for July 2016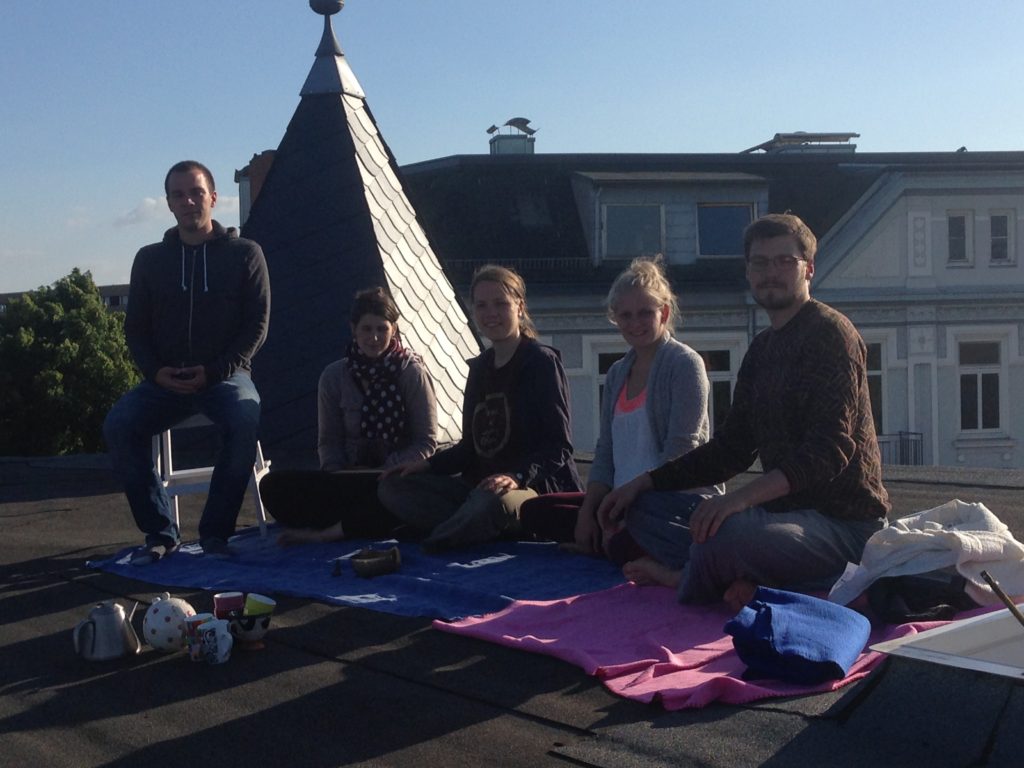 How did Wake Up get started in Hamburg?
At first our Sangha was made up just of two people, Lina and Vanessa. We met every week to practice together; sometimes we also enjoyed a mindful lunch together at university. After some months, Lina moved to Vietnam for half a year. Fortunately, just one week before she left Hamburg Vanessa met two more people from Hamburg during a Wake Up Retreat in Berlin. We had a great time there, and we felt very inspired to practice together regularly. That was in Summer 2014, and since then our Sangha has become more and more stable and strong. Some more people joined who knew Annica from the Yoga class, friends of friends were joining… and there were actually many people contacting us via our e-mail account.
What kind of people come to your Sangha?
There are different people coming; many of them are students. Somehow it happened that many of them are studying psychology. We have many musically talented people, and we also sing a lot together. There are also people who better like to listen, and they really seem to enjoy that as well. Some of us have already been to Plum Village or the EIAB several times, and they feel really at home in this practice. There are also people who originally come from other spiritual paths, so for them this group is the first contact with the Plum Village practice. But it seems that it really doesn't matter. We just want to be together and create a space where everyone can just be themselves.
Where and when do you meet?
We meet once a week on Sunday afternoon in one of our homes; we take turns for hosting. For some time we have also been in a Yoga Studio, but we felt that we enjoy more to practice in a "home atmosphere".
On average, how many people show up?
This differs a lot. There are between two and ten people coming, on average we are about five people. So it is quite a small Sangha, but we have a strong core group and we feel that we can really support each other in the practice. There are also many more members of the Sangha who come from time to time, to take refuge in the group, or to reconnect with their heart of practice… We enjoy our Sangha the way it is.
How are your gatherings?
At first we did not really have a plan for our meetings, but after a while we were longing for more structure. Now we really enjoy to relax into a clear frame that allows some flexibility. So this is what we normally do: We start with a short "inner weather report" where each of us can briefly describe their inner weather and how they feel in this moment. Then we read a short text from Thay, usually from the book The Pocket Thich Nhat Hanh. The text is meant to give us some inspiration for the meeting. After reading, we sit together in silence for 30 minutes. Sometimes we choose to practice one guided meditation instead. After sitting, we enjoy a short tea ceremony in silence. Then we sing some of the Plum Village songs. After that we read one of the Five Mindfulness Trainings to help us to remember them and to give us some inspiration for our practice in every day life situations. We conclude our session with a Dharma Sharing. All together, one meeting lasts for about two hours. There is always one person facilitating the meeting and inviting the bell for us. But we also like to share some tasks like pouring the tea or reading.
What challenges (if any) have you faced as a Sangha and how did you deal with them?
Sometimes it was difficult to find a date where everyone can come. At the beginning, we chose a different day every week to ensure that everyone has time to come. But when there were more people joining, it got too difficult to coordinate that. So we decided to set up a fixed day for our meeting, and we found a date where most of us can come (normally). The result was that there were people who could not come anymore. We also tried to establish a second meeting, so we had two meetings in one week. But there were many people who did not have the time to come twice, so in the end there were just very few people showing up in each meeting (sometimes just one or two). So we stopped doing that second meeting. We don't really have a solution for this problem yet. At the moment we have a fixed date every week, but sometimes we are changing the hour a bit so it is easier for some people to come.
What makes Wake Up Hamburg special?
In our gatherings, there is a very warm and open-minded atmosphere. We also welcome new inputs, ideas and inspiration from new members, and we enjoy that in this way everyone can contribute to the shape of the meeting. We like to share responsibilities in facilitating and organizing, which makes the atmosphere very easy and light. One speciality of our Sangha is that there are many people who enjoy doing music. We sometimes also meet apart from the regular meetings for a mindful music session. We sing together and play instruments; we nourish our creativity and joy.
To get in touch with Wake Up Hamburg, click here to email them 🙂