Sangha of the Month for June 2014: Wake Up Botswana
Haga clic aquí para leer en español
Clicca qui per leggere il post in italiano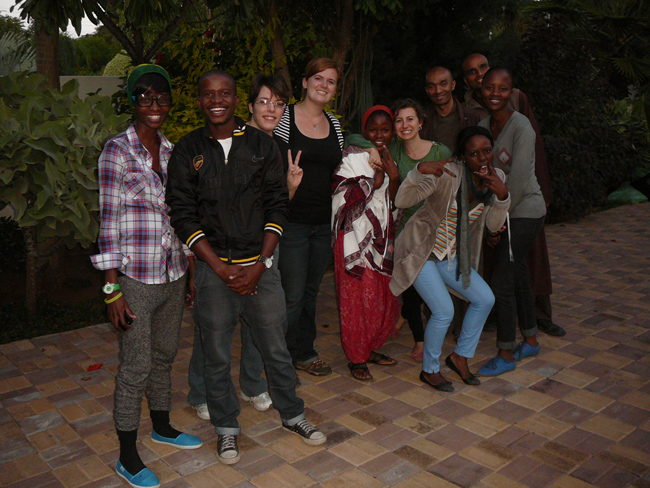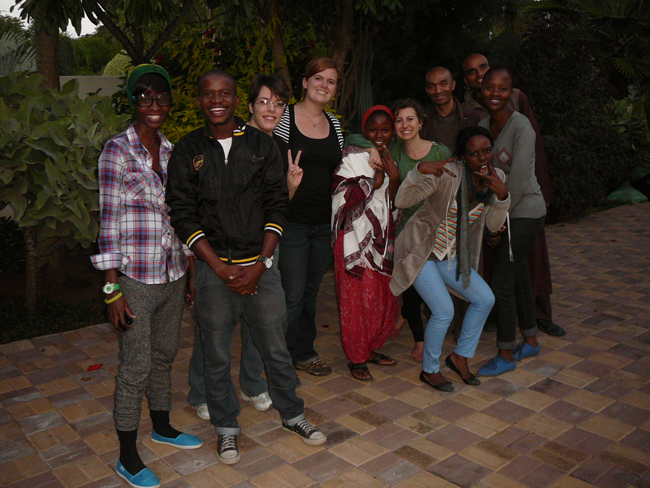 By Cheryl Ntumy
Our inaugural Wake Up meeting was held at the Careena Centre for Health, where our main sangha meets. Beneath a bright blue sky we took our first steps into this adventure, led by Brothers Jewel and Phap Khoi. We hoped for a crowd but got a small, intimate group, which turned out to be even better.
At the time we had a rough idea of what the Wake Up initiative entailed, but it wasn't until we watched videos of global Wake Up events and heard the inspiring song that we truly began to understand its impact and potential.
We envisioned having flashmob meditation in the middle of Main Mall and standing in the busy bus rank holding up inspiring signs, shocking the public. We imagined gatherings of young people sharing and working towards a better future. Starting a Wake Up sangha was never in doubt – it was obvious we were going to do it. We had to do it, for ourselves and for all the young people in Botswana.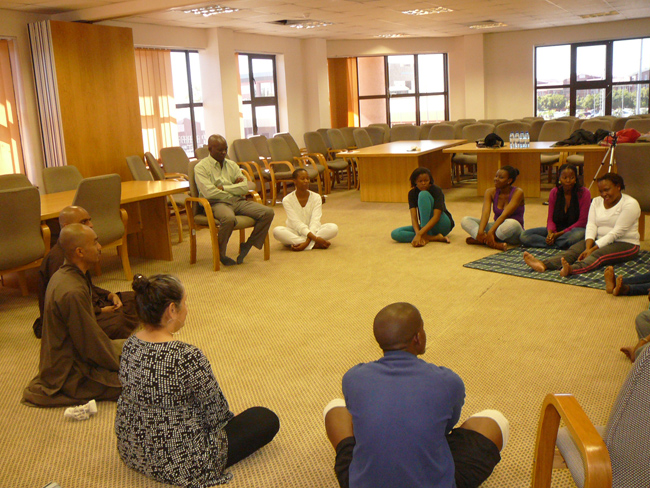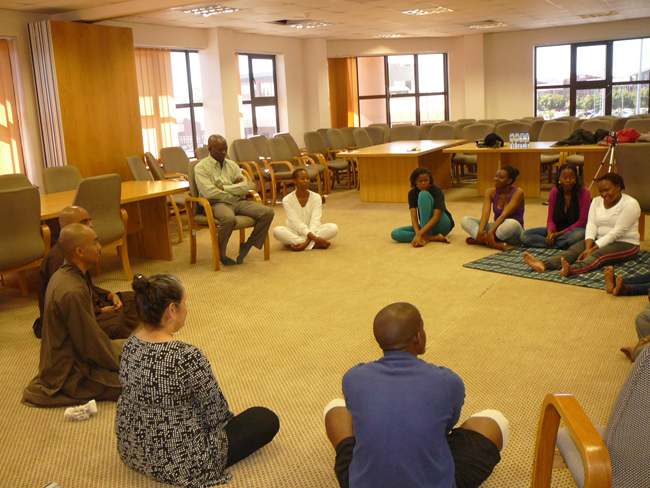 Our youth face similar issues to youth elsewhere, but there's the added component of globalisation and its effect on cultural norms. For a largely conservative Christian society, the notion of meditation can be frightening and foreign. It's not that young people here aren't hungry for spiritual nourishment, it's just that they're not always sure how to get it. Which is where we come in.
For us, Wake Up is a vast, untamed garden we've just stepped into, filled with both the familiar and the unimagined. We're taking our time exploring and discovering new things every day. The fact that we're the first on the entire African continent is both an honour and a responsibility. We are pioneers, clearing the path for others to follow. Bit by bit we're building a community of people who are passionate about changing the world.
We decided to meet twice a month, once on our own and once with the main sangha, so we could tap into the wisdom of the older members. We've had four meetings so far, and each one has been spontaneous and uplifting. We tend to wing it. Sometimes that means we just talk. Sometimes we read, or do walking meditation.
We're at the stage where everything is fresh and exciting, and knowing that we're plugged into the international Wake Up community gives us a wonderful sense that we're in good hands. It's incredible to think that what's happening for us has happened and is happening all over the world. It brings home the truth of interbeing, and the knowledge that we are all in this together.
Thank you all for being part of this, and for welcoming us into the fold. The practice is exhilarating and terrifying, comforting and challenging. We don't know where the journey will take us, but with open hearts, open minds and broad smiles, we'll take it step by mindful step.
Comments from a few members:
"I hope that the Wake Up community in Botswana flourishes and helps to create a strong sense of peace and connection between youth."  Vasilisa Tabak
"Wake Up sangha! GOSH, I cannot even begin to express myself on how this community has impacted my life.  Despite being Christian the art of mindfulness, mediation and the practice of bowing have overall complemented my lifestyle. I am in the pursuit of GREATNESS; I am more peaceful, patient and attentive than I have ever been.
To me personally mediation is a PRACTICE and the sangha is FAMILY; I love that we get to share in both good and bad times and in exchange for this we get PRICELESS SUPPORT from the community. Life has never been better and I know for sure that this is only the beginning as Wake Up Botswana is ready for take-off… Off to impact lives by planting seeds of compassion throughout the nation because WE CARE. With the Wake Up sangha no man is an island." Goabaone (Gee) Banyaditse