Haga clic aquí para leer en español
Clicca qui per leggere il post in italiano
Sangha of the Month for September 2014: Wake Up at Blue Cliff Monastery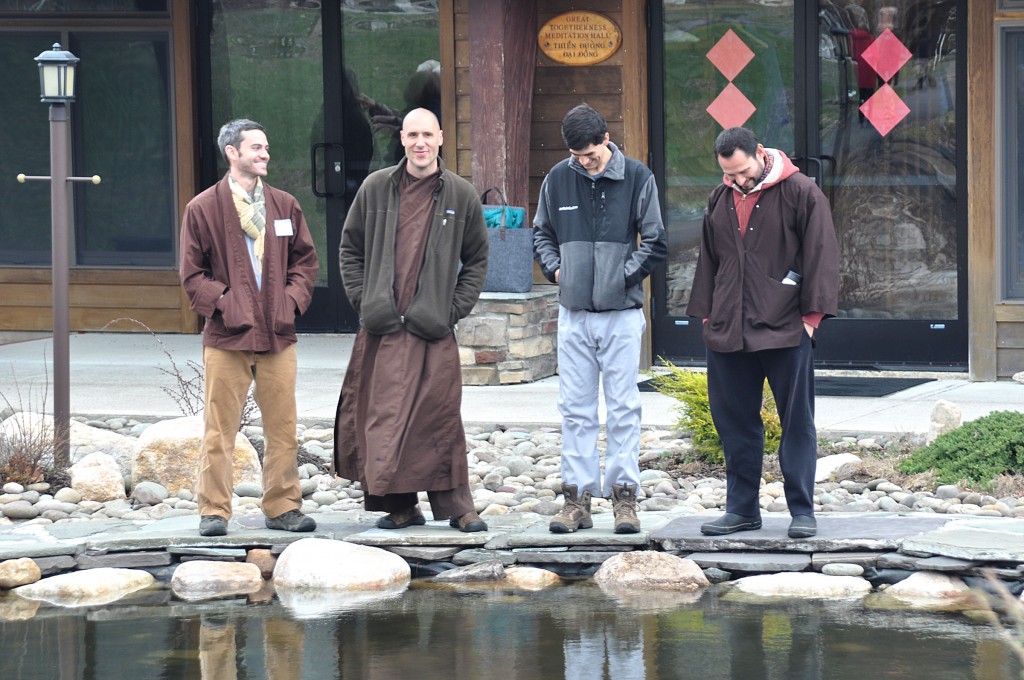 For this edition of Sangha of the Month (SOTM) we will be spicing things up by focusing not on an individual sangha but on a practice center in the Plum Village tradition. This month we connect with Blue Cliff Monastery in New York to learn about how they are supporting Wake Up.
How often do you hold Wake Up events at Blue Cliff?
This year there were two Wake Up retreats, a 5-day young adult retreat in March, and a Wake Up Weekend which took place last month in August. In addition to retreats, local Wake Up groups will sometimes arrange for a group of people to come up for an informal weekend to hang out and spend time at the monastery.
What characterizes a Wake Up retreat at Blue Cliff?
Each retreat has a unique flavor, and Wake Up retreats tend to be simultaneously full of energy and also solidity. Young people are eager to soak up the practice and they also can embody the practice quite beautifully. After the orientation of the recent Wake Up Weekend there were fresh arrivals already practicing slow walking mediation just from the hall to their residence. It was inspiring to see.
Blue Cliff has also recently began offering special events for facilitators of Wake Up Sanghas during their retreats. These facilitators serve as the ambassadors of Wake Up. Providing them an opportunity to connect and learn from each other is something very precious.
In addition to retreats, what other opportunities are there for young people to spend time at Blue Cliff?
There are many: A couple years ago Blue Cliff began a "Residential Practitioner Training Program" (formerly known as the 'internship'), which allows lay people to reside at the monastery for a year, deepening their practice and connection to the community. This program is open to all ages, but we've seen a number of Wake Up practitioners take advantage of it.
There are also shorter work/exchange programs, as well as people who just come to practice for a few weeks at a time. And of course there is the Five-Year Monastic Program. We have a group of young novices at Blue Cliff, some of whom are in the 5-year program.
Is there a vision for the future of Wake Up & Blue Cliff?
There are plenty of ideas! (laughs)
One vision is to have a "Wake Up Office" where young people can live and work at the monastery and have sangha service be a form of livelihood. There are ongoing discussions within the Wake Up community about Right Livelihood, as many young adults want to find a way to integrate their work life and their spiritual life into one cohesive whole. This is no easy task, but the seeds of this are being watered by offerings like the residential practitioner program.
In the meantime Blue Cliff will continue offering retreats for young adults, and also likely expand the support that is being offered to Wake Up facilitators and Sanghas
To see footage from the recent Wake Up Weekend retreat, check out this video of the 5 Mindfulness Trainings presentation: http://youtu.be/1zeXx5PrOj4
To learn more about Blue Cliff's Five-Year Monastic Program see http://www.bluecliffmonastery.org/become-a-monastic/