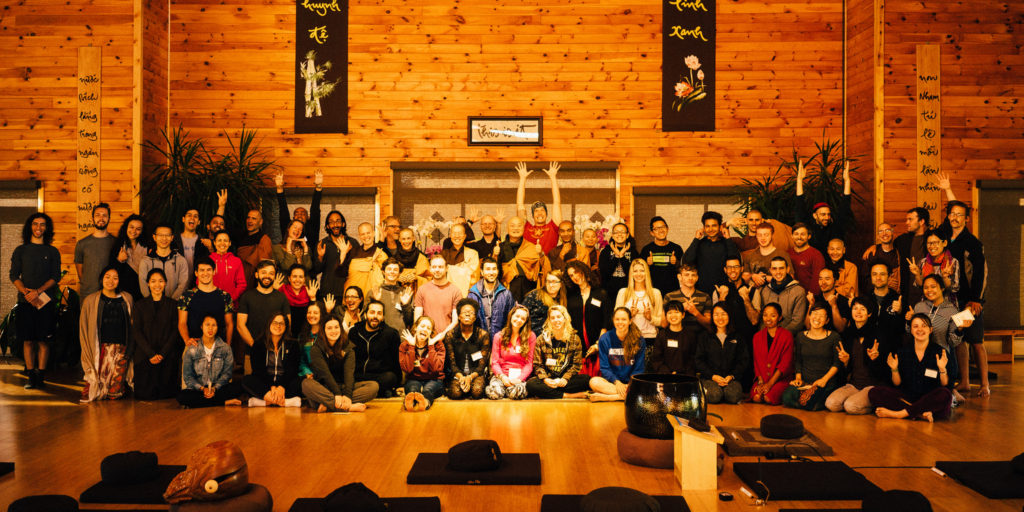 Interview with Elli Weisbaum
Q: Can you share a bit about the recent Wake Up retreat at Blue Cliff and your experience as a member of the organizing team?
A: The 2016 Wake Up retreat at Blue Cliff Monastery was very joyful. The organising team was made up of four sisters, a brother, and myself. Skyping with the monastics to plan the retreat was very nourishing, as it added a purposeful pause to my day and an opportunity to connect with and serve the Sangha right from my living room. On these calls, we put together a proposal for the retreat schedule and content to present to the Dharma teachers at Blue Cliff.
At the retreat we had about 80 young people from around the East coast area—many from New York, Boston, and some from Toronto. It was incredibly nourishing to see so many people my age taking time out of their busy lives to come and practice together.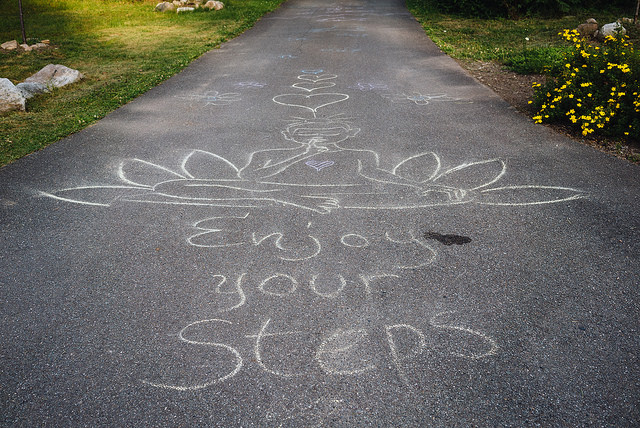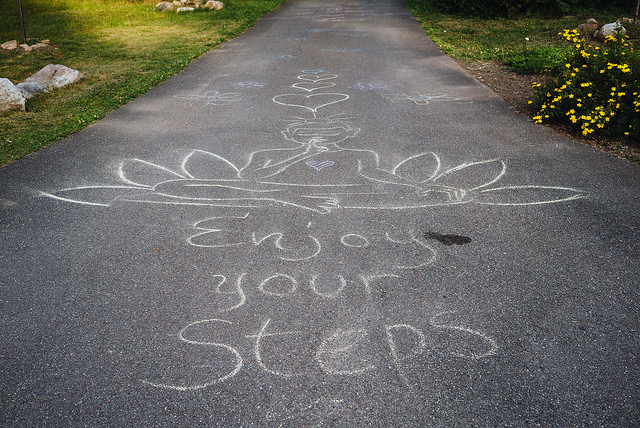 One fun new thing we tried at this retreat was to have chalk drawings along the path from the monastic sisters' dining hall to the meditation hall, inviting those on this part of the path to walk in silence. To make this invitation, Brother Bo De led a working meditation to draw chalk pictures along the path. They were very beautiful. As soon as you reached them, you felt inspired to slow down and walk in a different way. It was a great reminder of different ways we can play to support our practice.
At the beginning of the retreat, during orientation, we asked for attendees to raise their hands if it was their first time attending a retreat, and almost half of the people raised their hand. We were also supported by many long-term Wake Up practitioners, several of whom participated in a beautiful 5 Mindfulness Trainings panel. At the end of the retreat, approximately 30 people took the 5 Mindfulness Trainings. For many of the group who raised their hands on the first night, this was their first experience with meditation or trying anything in a community like ours. From this, I see that Wake Up continues to be an amazing door to the practice for young people.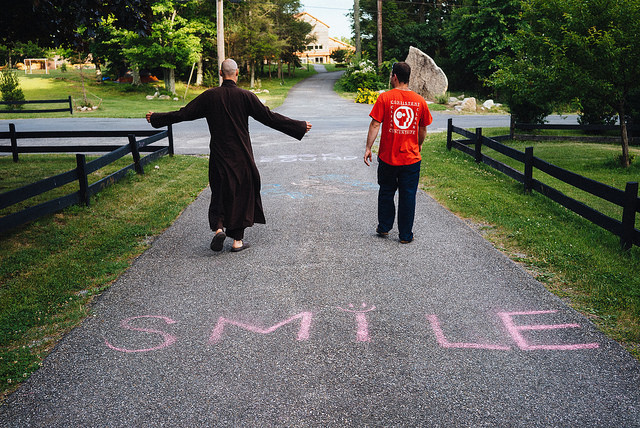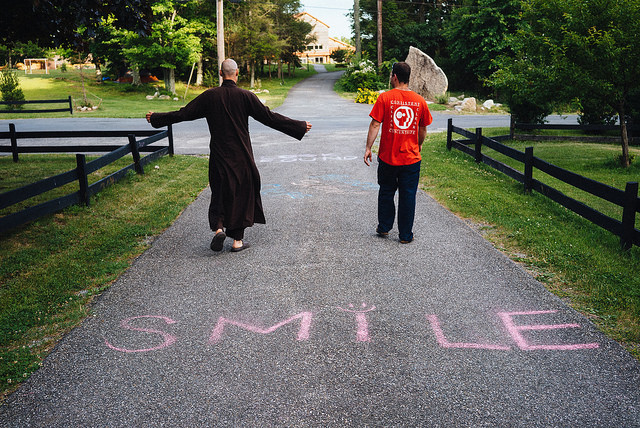 Q: Were there any challenges that the organizing team faced?
In terms of planning, we had a very harmonious time within the organizing team. We decided to be gentle with ourselves, so we took the schedule from last year and simply adapted it to what we saw arising this year. One interesting challenge was that we decided to invite the ARISE Sangha to present on Racial Equity as part of the retreat. This is a new initiative within the Plum Village community which we wanted to support. We invited Valerie Brown and Maricela Gomez to come and present. Racial Equity is challenging for many people for a variety of personal, cultural and societal reasons – which I will not unpack at this moment, but I feel its important pause and acknowledge the complexities.
Many of the young people in attendance had not explicitly looked at this topic before, and we also have not included it in this way at a Wake Up retreat at Blue Cliff. Based on feedback we received from participants, this topic is one which everyone felt to be deeply important to our community, but also that more time was needed within a retreat to hold the space for this kind of a workshop. Some powerful and interesting conversations came out of the presentation, and some good learning for the organizing team on the importance and challenge of bringing a Racial Equity workshop into the space of a 5-day Wake Up retreat.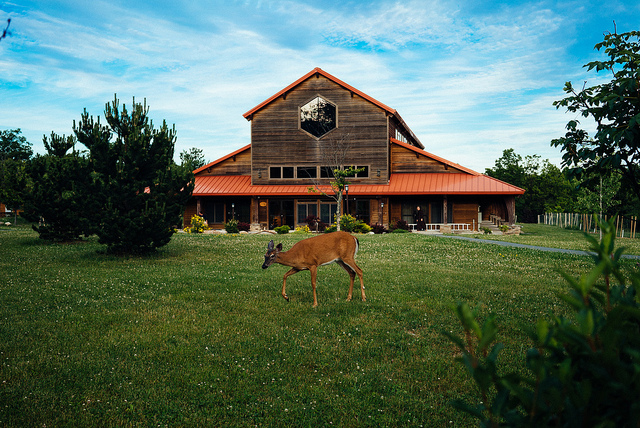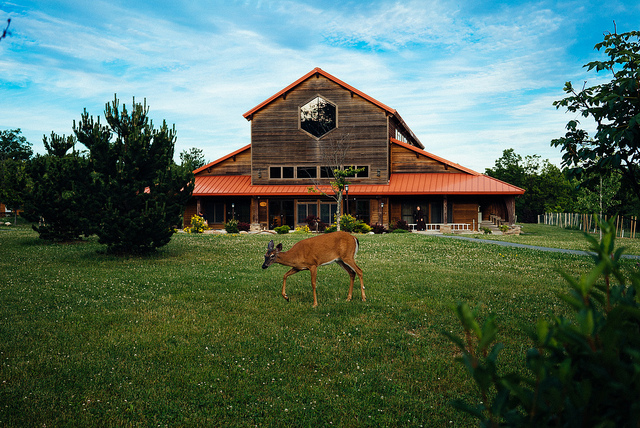 Q: Any tips you would give for someone planning a retreat with monastics?
If you are going to organise a retreat with monastics, enjoy and go with the flow. In my years of working with the community, flowing is a very important skill to cultivate. I'm a Type A personality, so I like to be very organised. This can be a great skill to add to the team, but if I hang onto my ideas or the pacing I am used to in the urban city where I work, I might suffer a little – so it's important to find a balance.
For me, organizing with the monastics is a beautiful opportunity to touch the quality of refuge. Allow your skills sets to support the community wherever they can, but also find space to let go and be supported by others. There were many times when I was able to offer something very meaningful to the organizing team, and also times when I saw my own work being supported outside of this retreat from the nourishment I got from being on the organizing team. As with many things we do with the Sangha, being on the organizing team is a wonderful opportunity to look at my own habit energies and enjoy being in service.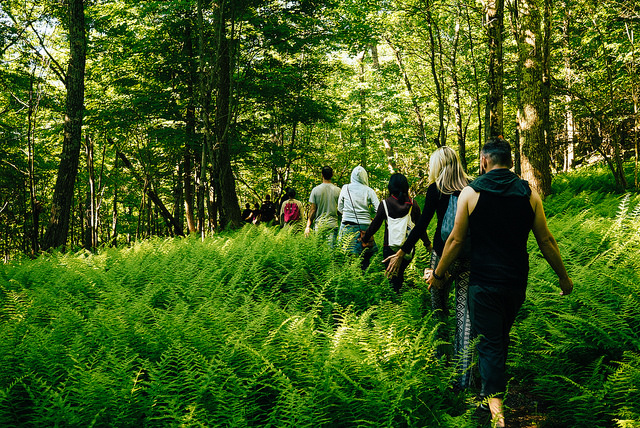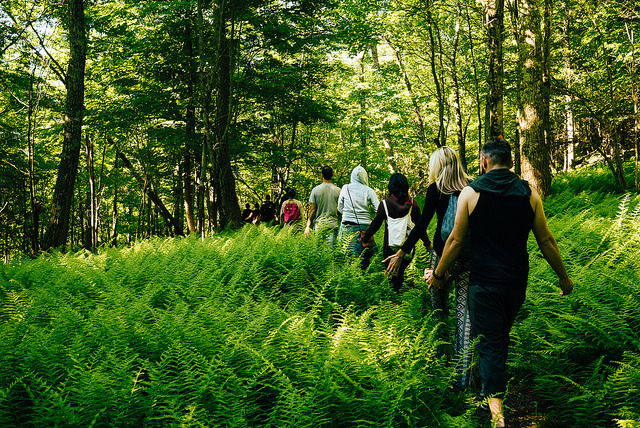 Elli Weisbaum is a member of the Order of Interbeing and a co-facilitator at Wake Up Toronto.