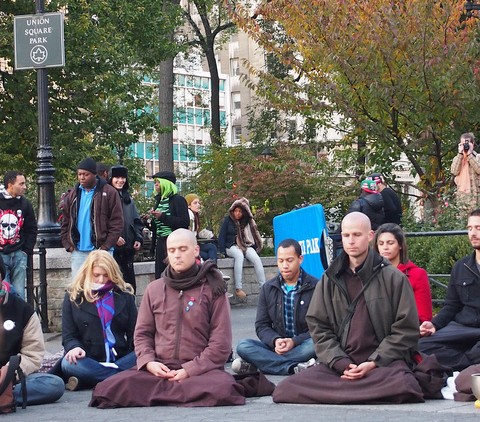 By Jenny Hamp
In April 2011 I asked a Brooklyn Sangha friend how to get in touch with New York Wake Up. The next week I found out I was organizing it. My friend had volunteered me to help a young adult from the Manhattan Sangha who wanted to start a group. Our incentive was an email from Thay's monastics, a mission like the start of a treasure map: you will have four days with eight monastics for part of a Wake Up tour in New York City, and "it is up to you folks to decide what to do." Eventually four of us (two men and two women; two Caucasian and two people of color) got together to create a Wake Up group…and somehow plan for our part of the tour.
We decided to focus on the upcoming monastics' visit and to use weekly Wake Up meetings, open to anyone, for practice and planning. We would have a short sit, drink tea, eat a meal, or walk together in the park. Then we would look at many exciting questions: should we have a retreat in one place, or different places? Should we have people bring lunch? How were we going to advertise? Understanding often came in conversation when we weren't looking for answers. I soon caught on to a new energy I hadn't experienced before. After each meeting I felt lighter, inspired, and optimistic, whether or not we made any headway. It took me a while to notice this wasn't a chance occurrence.
We cast wide nets for schools and contemplative groups who might want to help share the practice with young adults. Every time we had a good insight, or successfully connected with a student group, it felt like sharing a good meal that was never finished. Every time we miscommunicated with someone or an opportunity fell through, we supported each other and held the disappointment without blame or judgment.
Many people quickly swung out to help. The monastics planning the tour brought their experience and clear vision to pull all the threads together. Our lay Dharma teachers offered their full support, and also their contacts at universities for us to meet. The Gershwin hotel provided housing, event planning, food, and a free event space. A young business consultant joined us in planning the tour and launched a Facebook campaign. When we pulled the nets in, we found we would have a full day of mindfulness in the city, a concert, a flash mob, two visits to private schools, a visit to a public school, and two sessions at a juvenile detention center. Additionally, over 300 people were planning to attend.
The Fruit of Our Efforts
On the first day of the Wake Up Tour in New York, I got to see the fruit of these efforts. After a mindful meal, the monastics asked the group of about 100 young adults what they had experienced. One person was aware of each ingredient in her sandwich, much more now than when she made it. Someone else discovered he actually did not enjoy peanut butter and jelly very much. I was hearing calm accounts of people becoming aware of their food—not as an exotic experiment that was outside of themselves, but as a simple witnessing and perceiving through their own senses. I felt so happy to see that with half a day of practice in the city it was possible to stop. I felt like I had gained many sisters and brothers in an instant. Here were so many other young adults with the same open interest and hopefulness.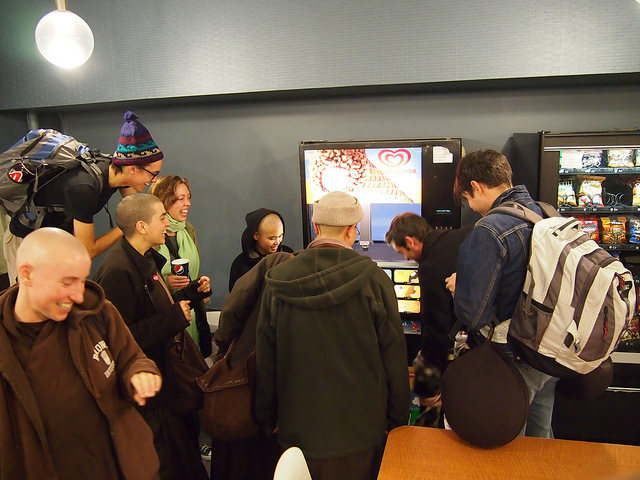 Another highlight for me was the ice cream machine at Lehman College. After a session with students, we had dinner there with the monastics and some young adults traveling on the tour. The vending machine was a contraption, and we were so excited to put money in it and see gears and claws and hinges whirring around just to deliver an ice cream sandwich! We laughed with total abandon, and got a second sandwich so we could watch it again, crying with laughter. The sisters cut the sandwiches up carefully so everyone could have a bite, and it seemed totally satisfying. To me this was joy we completely shared, this silliness and amazement generated as a group, just to take in this moment and make each other happy.
The Power to Embrace
Today our Wake Up organizing team of four has grown into eight, and has become the caretaking council for Wake Up New York. A yoga center owner who follows Thay offered his space so we could meet. Instead of going to bars on Friday nights, people can come for an hour of practice and then hang out with us. Two of us are pre-aspirants and two are aspirants, and we feel our teachers right there with us. We have about fifteen people each week. The group has been very joyful and supportive. It is a place where I feel comfortable sharing and can let the group carry me when I feel less able.
At first I thought Wake Up was a space for young adults to relax with our peers and practice a little. However, after practicing with this group and seeing such a strong response in Philadelphia, New York, and Boston, I think it's more than that. Many of us are noticing how affected we are after each gathering; we feel stronger, more confident, and more optimistic. I think it has something to do with meeting people who have similar suffering, and who will be with us for the rest of our lives. Perhaps we realize that many other young adults also feel capable of living in a more humane and compassionate society. We look across the room and see motivation and love in our generation.
We try to deal with the economy, the climate, the suffering of our parents in us, discrimination and greed in our culture, all alone, and maybe we feel sad about the future. I think Wake Up has changed our perspective. From feeling helpless, we've moved to feeling we have the power to embrace what lies ahead. It feels very simple: we can accomplish this just by being there for ourselves and each other. In this space we can actively create the acceptance and freedom we want everyone to have, and we feel empowered.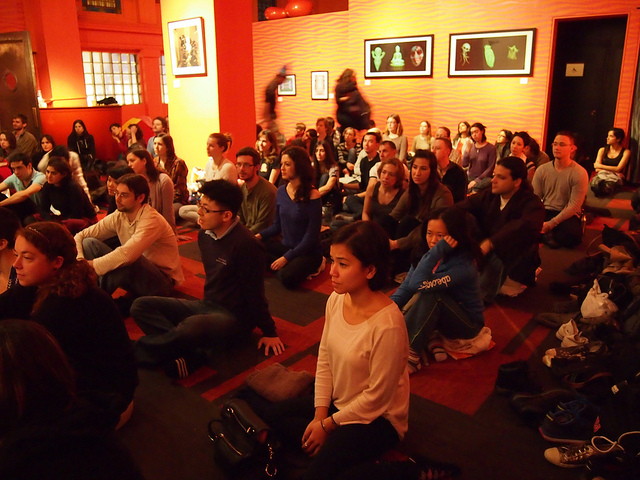 The mission statement developed by Wake Up New York:
New York Wake Up is a group of young meditation practitioners who get together to create a joyful space of refuge for young adults. We are inspired by the teachings of Thich Nhat Hanh. We do the fun things that New York City dwellers do, but actively maintain the best elements of our culture: inclusiveness, healthy consumption, hope, joy, great energy, activism, and community. By being wonderfully together we create support for each other. We find we are not alone with the suffering of our generation. We seek out our true selves amid the dynamics of our new relationships, new jobs, struggling minds, dynamic bodies, busy cities and big life changes. We share our success in practicing mindfulness and finding happiness. We practice with our local Sanghas, at practice centers, and with the teachings, so as to nurture our hearts and minds and create real hope for our generation and our future.
To learn more about Wake Up New York please visit http://wakeupnewyork.org/
Jenny Hamp, Peaceful Refuge of the Heart, practices with the Rock Blossom Sangha in New York City. She lives in Brooklyn with her partner Tim. She works as a mechanical engineer, tries to help reduce energy consumption in buildings, and practices not starting new projects to increase communication and justice.