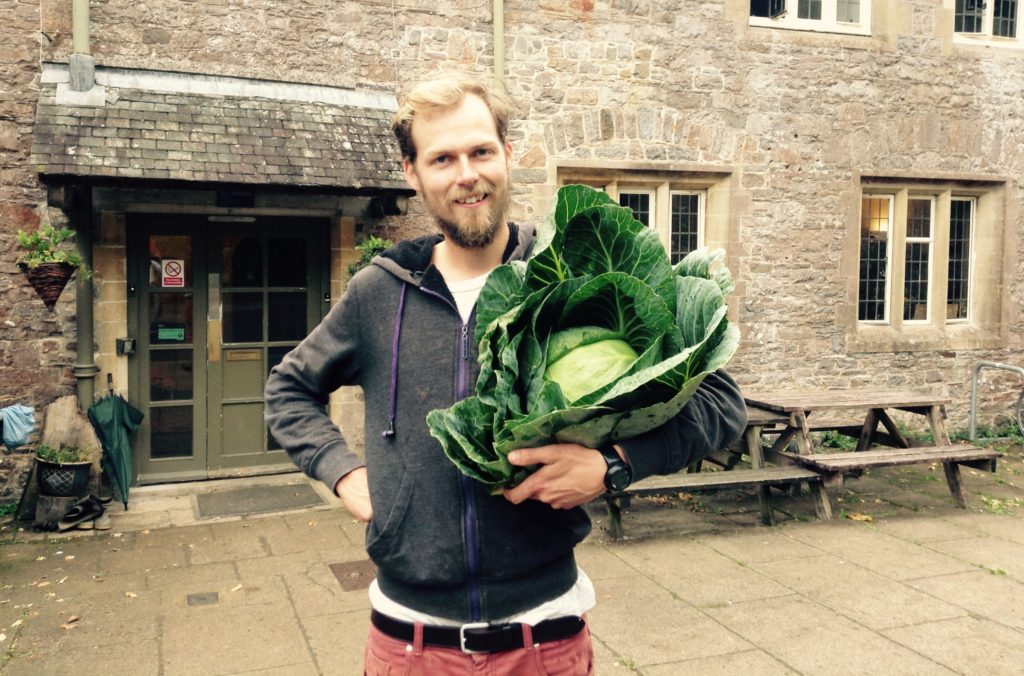 by Michiel de Koning
A "Bedtime" Story
Plum Village, March 2015 – Waking up at two o'clock at night. Why is my alarm beeping? Putting on as many clothes as possible I walk down the hill, illuminating the path with my little head torch to look at our little babies in the polytunnel. It was a cold and clear night in south of France, and even though it was March, temperatures were close to freezing so I had to check if the little gas heater was still working in the greenhouse. Arriving, slightly shivering, I was happy to see that all the tomatoes, courgettes and lettuces were peacefully resting in their seeding trays. After a quick look at the thermometer and heater, I could safely confirm that no vegetables were in danger of a painful freezing dead. Aware of my inner parent manifesting, I took a breath and smiled. What a joy to jump in my warm bed, knowing that all my babies are sleeping and safe.
Another night in the life of a Happy Farmer!
The Great Joy of Growing Food
After two years of living and gardening in communities I have seen the great joys of growing food for others, as well as creating a space where people can reconnect with the earth and heal.
While living in the Mindfulness Practice center Plum Village, home of Zen teacher Thich Nhat Hanh, I came into contact with the seasons again. I came into contact with my body and mind. Learning how to take care of the little vegetable seeds so they could grow into the food we eat and experiencing the interconnectedness between myself, the seasons, the garden and the community, it changed my view on life completely. Now living and learning at Schumacher College, England, I've had the great opportunity to deepen my understanding of growing sustainable food and taking care of the land in a way that nourishes the soil for future generations.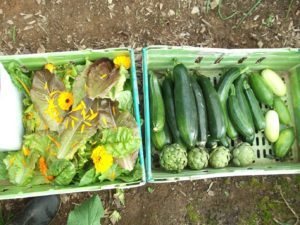 Is Gardening Hard Work?
Living in these two communities, I see the same patterns in relation to the garden. A small team is trying to produce a lot of food for a big community – beautiful produce but often at a high price: the wellbeing of the gardeners. I feel that this way of working is not sustainable for people; the community is still a reflection of our current modern society with its strong work ethics, individualistic values and goals, and fragmented departments.
How can we find a way to work differently and take a more holistic approach? I think it is possible by looking at gardening in a different way. The food we eat is the first and most essential ingredient we need for living. Mother Earth provides us such generosity with food if we take care of her.
The Heart of the Community
I want to propose to see the garden as the heart of the community, and like a real heart, it is connected with everything in the body: the blood, the muscles, bones, etc. We can only take good care of our heart if we take good care of our whole body. We can't only take care of our heart and not take care of the rest of our body. It just doesn't work like that; it's interconnected. If we now imagine the garden, where we grow food for the whole community, as the heart it is very easy to see that everybody is involved in some way to keep the heart of the community healthy. Gardening, cooking, eating and by doing so feeding oneself and each other.
This will not be an essay with answers but rather a framework for further exploration. A framework of three very simple words, to help us to think of gardens and community as a whole and to get out of the dualistic mindset where the gardener, the garden and the rest of the community are separated.
PART 1: INSPIRATION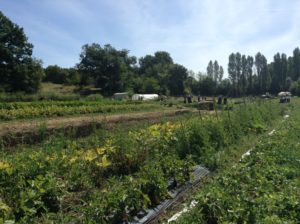 The Drawing in of Breath, Being Stimulated
Often we think of inspiration as some kind of magic energy that only a genius can get. But if we look at the definition in a physiological sense, it is very simple. To inspire just means the drawing of a breath. So inspiration is not something to wait for or to attain – it's always there. And if we are really able to take a breath and see what we are doing, we are stimulated to do or feel something, which is the main definition of the word inspiration.
So what does this have to do with me, the garden or the community? For me, inspiration is also the feeling of connection. When we know how to create a feeling of inspiration for ourselves, we can really connect with the world around us. And being in contact with the earth and plants in the garden can help us to find the peace of mind to be inspired; it's a cycle.
The second layer we want to look at is the garden. How can we create the conditions for the garden to breathe? We need to nourish the soil with life and air so the plants can breathe. There are hundreds of ways and techniques to enjoy gardening. But for a real understanding, we should not treat the garden differently than our own body. If the garden has the good conditions to breathe, it will be surely be stimulated to thrive.
In Permaculture they say: don't just do something, stand there. Observing is the key to connection and inspiration. If we don't take the time to wander aimlessly through our garden, we may miss out on all the beautiful bees and bumble bees in the phacelia bed and the thousands of insects that help us to pollinate our vegetables.
The best fertilizer is the gardener's shadow, they say. We should not forget that at the end of the day, the plants grow themselves. We don't need much knowledge to know what plants need. It is obvious to see that it is hard for a plant to breathe when there is no water or space to grow to its full potential. Would you find inspiration without any water or space to flourish?
By observing, we may gain the insight that our body is not so different from our garden. If we don't rest sometimes without any aim, we may never notice that we are tired and that our body needs time to heal. And by just continuing in this way, not observing, we may lose our inspiration or get sick.
Checking in with myself by taking a breath can create a bit of distance and give me the opportunity to see if I am doing the right thing. Will my action create inspiration for myself, the garden and my community?
Click here to read the rest of Michiel's sharing here.
Over the last three years, Michiel has been blessed with the deep experiences of meeting amazing teachers Thich Nhat Hanh and Satish Kumar, as well as working with hundreds of people from all over the world. In a search for a more balanced and nature-based way of living, he ended up living in Plum Village for a year. Working on the Happy Farm, he had the opportunity to learn about growing organic vegetables and facilitating mindfulness retreats. Being touched by the power of the healing quality of the earth, he moved to England to deepen his understanding of sustainable horticulture and community life at Schumacher College.
Inspired by all of these experiences, he now tries to continue his work by finding ways to contribute to and set up projects/communities where people can reconnect with the earth and express their inner creativity through arts, growing, cooking and love.