Wake Uppers from different corners of the planet have sent us their heartfelt sharings in response to the passing of Thich Nhat Hanh (Thay). Let us take in this compilation of poems, prayers, meditations, letters, artwork and a song as a way to pay tribute to Thay and feel our togetherness during this tender time.

More wholehearted sharings can be found on our Instagram page.
If you would like to send us your contribution, we are happy to receive your email at info@wkup.org


The Waves of Love
Hands to hands,
Hearts to hearts,
The precious teaching is flowing like a river.
In the waves of love, all beings are singing together.

The new leaves are coming from the old leaves.
Breathing in,
I see Thay smiles in me.
Breathing out,
I smile with Thay.

Thank you, my beautiful teacher. Thanks for being with us in many forms. I will hand down the love to my children and all in gratitude. I pray for your peaceful and joyful journey_()

Jeonghyun (Wake Up Korea)
**********
Dear Thay,

i've been offering incense every day for you since you passed.
The incense burns in a bowl of quinoa.
Simona (Earth Holder Sangha)
**********

Oh, my dear teacher, my love,

I do not know why I cry, even as you live through me:
as I invite you to walk with me in wonder,
under our vast blue sky
to sit with your gentle smile on my lips
to love with your gentleness

Thay, I always imagined looking into your deep eyes,
holding our hands as we softly walk
and embracing you with a smile.

O' Thay, yet I miss these moments every day,
to practice, to love, to create togetherness in our world.
I become stern and rigid, loud in my fears.

Thay,
watch over us and our world as a guardian angel,
watch us grow in love,
watch us become stronger in our silence,
watch us become your beautiful continuation.

Much love and gratitude,
Himdeep (Wake Up Buffalo and Wake Up Relaxing Morning Sangha)
**********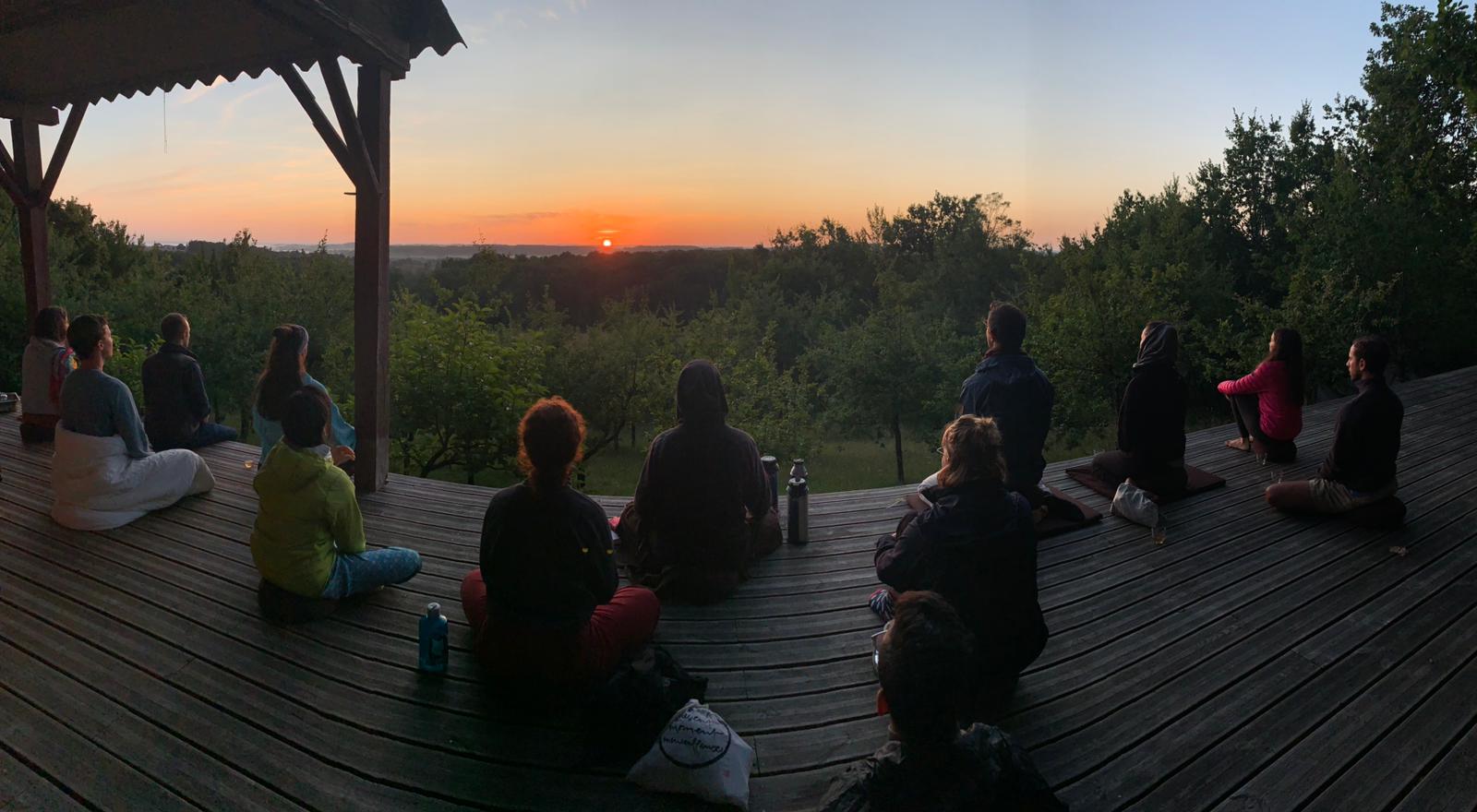 Sun and Moon
The Sun rises
The Joy of a Teacher
Wakes us up
Lights up a path
Of Life and Love
Of Hope
The Sun shines
The Kindness of a Teacher
Radiates brightly
Passionate and persistent
Ancient wisdom
Penetrates our hearts
The Sun sets
The Compassion of a Teacher
Paints the sky
Holds the coming night
Preparing us patiently
With warmth
Now the Moon rises
The Teacher Includes us
Quiet and steady
Giving us permission
Reflecting our light
Even in the night
The Sun rises.
Joy.

In gratitude
Will (Wake Up Singapore)
**********

A Cloud Never Dies

You are leaving, but every moment you are still arriving
in every step and every breath I take
Your eyes are closed, but I can see you more clearly now
in the clouds and in the water in my tea
You are no longer here, yet I see you everywhere
in the smile of a child and the blossoms of spring
Your voice is silent, if it weren't for
the singing of birds and the rustling of leaves in the wind
There is no coming and no going
as you are leaving, you are only returning to us
The greater the distance between us,
the more we carry you in our hearts
You have left a void, which we can only
fill with the the practice you gave us
We feel an emptiness, but we know
we are only empty of a separate self
My sadness is beyond limits,
but so are the gratitude and love I feel today
A bottomless hole is gaping in my soul,
from which a wellspring of compassion rises
I am at a loss for words, my mind is blank
and yet understanding is born:
The boddhisattva stands majestically
upon the waves of birth and death
Your work here is done,
ours has only just begun
So has it been since beginningless time
so will it continue into the ages of ages
We are life without boundaries
As we transcend the final limitation
we know as sure as the clear blue sky:
We have never been born, and we will never die
Jazz (Wake Up International)


**********
Breathing in,
I invite Thay to breathe with my lungs.
Breathing out, I invite Thay sit with my back.
Breathing in,I know that you are with me.
Breathing out, I know I am with you.
No coming and no going.
A heart filled with gratitude.
Our beloved teacher has grown our community into wonderful composite.
You're contribution to the collective is what we all aspire to do for our Mother Earth.
When my mind becomes astray and I connect with my body and mind I can feel you with me.
In the kingdom of Thay, I will always aspire to dwell in the ultimate dimension with you by my side.
I can feel you guiding my steps and in my breaths helping me back to my true home.
You have taught me to look deeply within myself.
To transform the garbage within me into beautiful flowers that I now share with the world.
We will continue your path of non-violence, compassionate action.
Moving forward towards a life filled with peace in every moment.
Your body may decay
but your actions will
forever be with us in our steps, our breaths and our actions.

In deep gratitude,
Robert (Wake Up Kansas City)
**********
Call them by their true names.
In the dead of night,
They come for me,
Pounding and prying, opening and eyeing,
The fury of the sufferings yet transformed,
The center of the storm passes through,
My body and it feels like just the tiny,
Tiniest space for me to take, to take,
A breath of air, I exhale. I inhale.
And I muster up my courage, what little of it,
Is left in the embers of my ego,
Born again, and into this moment,
A rising Phoenix, unsure and resilient,
Call them by their true names!
Call them by their signless forms!
See them for their true nature!
See them for their emptiness!
Drifting back, back into the depths,
The shores of insight a distant view,
A steady rocking laps the raft,
Upon which my consciousness floats.
Chris (Morning Birds Sangha)
**********