Gal and Charlene are lay practitioners who have traveled the world offering Contact Improvisation. Gal is from Israel and practices Chinese medicine, while Charlene is from France and has been working as a medical clown in Israel, where they met. They both practice with Wake Up Tel Aviv and were visiting Upper Hamlet's Happy Farm at Plum Village when this interview was conducted last June. Gal and Charlene share about the intersections of Contact Improvisation with mindfulness practice, including the connections between physical contact, presence, and attuning to emotions through movement. (Title picture by David Ollitrault)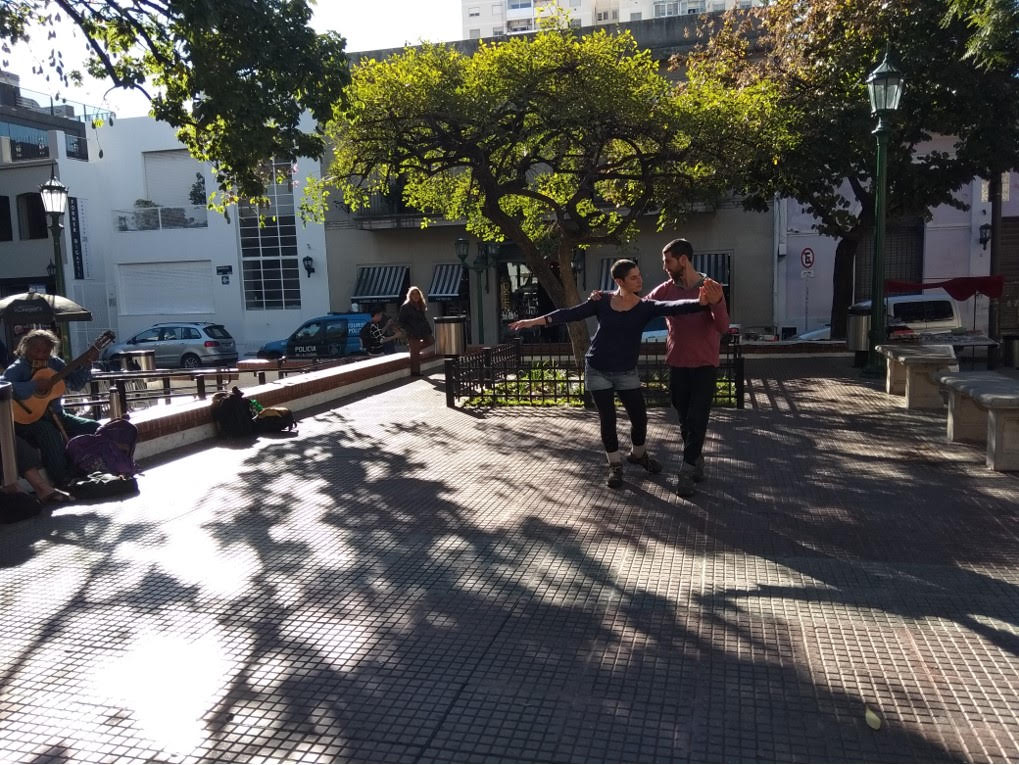 Q: Could you share about yourself and how you discovered Plum Village?
Gal: My name is Gal. I'm thirty years old and from Israel originally. Over the past year, I have been traveling in Europe, South America, and Israel. I am a Chinese medicine practitioner by profession, but I also very much enjoy dancing, permaculture, agriculture, traveling, and the Buddhist practice. I started practicing Buddhism thirteen or fourteen years ago and I got into the Plum Village practice five years ago by participating in Israeli Sanghas and Wake Up Tel Aviv.
Charlene: My name is Charlene. I'm originally French and I've lived in Israel for two and a half years. I've also traveled with Gal for the past year. I'm a medical clown and am also very interested in permaculture, ecology, and dancing. I enjoy sharing what I love with the people around me during my travels, including clowning and Contact Improvisation. I started meditating three years ago and discovered the practice of Plum Village when I moved to Israel. I was part of the same Sangha as Gal in Tel Aviv and through a retreat organized by Plum Village in Israel, I heard about Wake Up. And so, this is how we came to Plum Village for the Wake Up Earth retreat 2018. We came back this year because we really, really fell in love with the place and we wanted to go deeper into the practice at Plum Village and the Happy Farm.

Q: You've been volunteering at the Upper Hamlet Happy Farm for the whole month of June while also practicing Contact Improvisation. Can you briefly explain what that is?
Gal: So, Contact Improvisation is a form of dance and investigation through bodily touch and improvisation. It means creating an imaginary world through dance and play with different people. Charlene and I have participated in this world for the last three years or so. And we also lived in a community in Israel for a year that practices this together.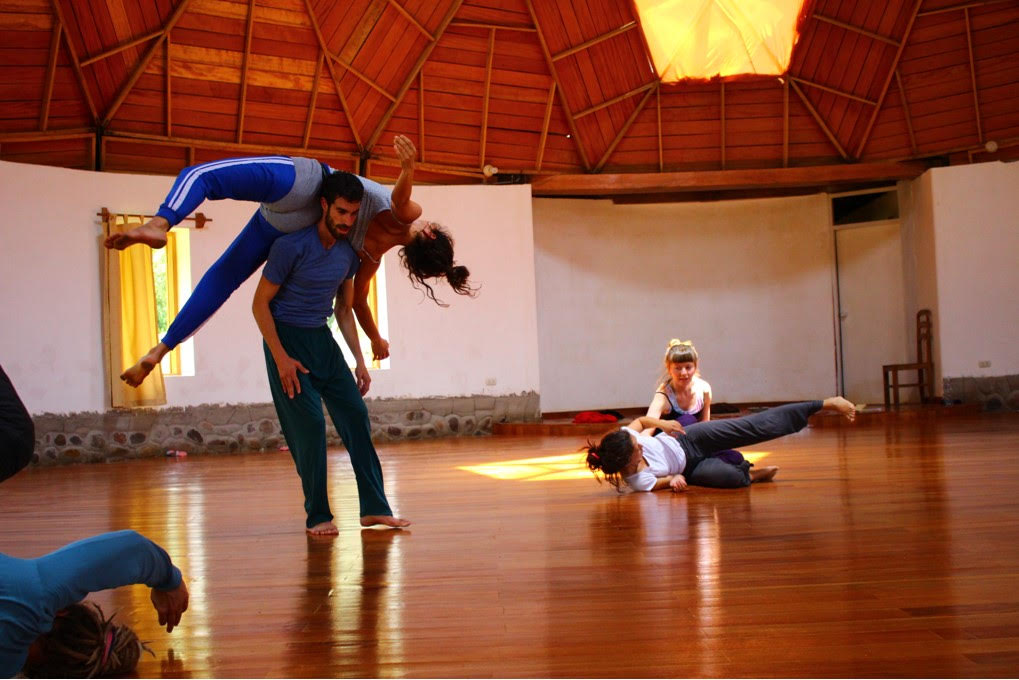 Q: What comes up for you in terms of how the movement practice of Contact Improvisation is linked
with what we do here in Plum Village?
Charlene: For me, Contact Improvisation is a connection with someone else through touch. It's a way to connect to yourself in the mindfulness practice. I feel that Plum Village practice is very connected to Contact Improvisation because, as in any movement activity, it raises a lot of emotion and connects a lot to this awareness. Mindfulness helps me to be aware even more of the emotions that happen through movement. And mindfulness meets Contact Improvisation in the way that mindfulness helps me a lot to be fully aware of what's happening and fully in the present moment. And it helps me to bring this quality of deep presence—full presence with a partner that I meet but also with myself—and dealing with my thoughts in order to come back to the dance that is created and to be completely in the here and now.

Q: I imagine that being in physical contact with others through dance can well bring up insecurities or different kinds of difficult emotions for people who try Contact Improv. What is your experience with that?

Gal: I think everybody experiences it through the practice. Contact brings up a lot of patterns that already exist in our life, but maybe through the touch and also through the creation of dance, our patterns are amplified much more. I think that like in the practice, when we observe that we have some thought or some emotion, even if they are difficult, we try to come back home to ourselves and to our sensations. Contact is the same invitation to meet the difficulties, but also the pleasure of meeting someone else, which includes meeting ourself and being present with it.
And I don't know if it's really for everyone, this practice specifically. But I know that it really made my practice much deeper. I was able to see different angles of how I perceive myself in front of other people, and the waves of thoughts and emotions that come up with this meeting—which is very intimate, but at the same time, the space brings a lot of safety. So, it's not like diving into a room where everyone is just like children and no one cares. People want to play, but at the same time they are very attentive and can listen very deeply during this practice.



Interviewed by Annica in June 2019. Transcribed by Diane F. Wyzga and edited by Erica Fugger.