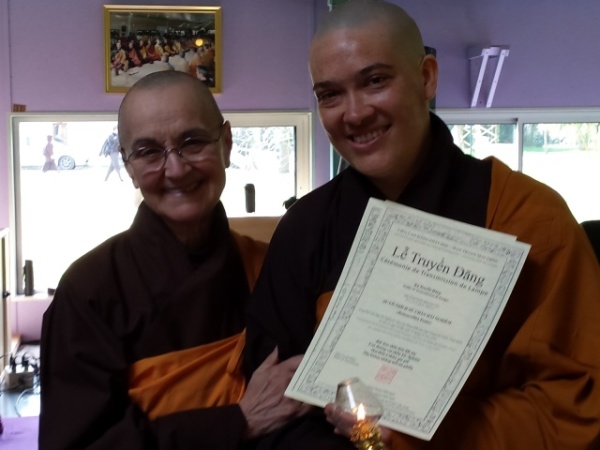 Maison de l'Inspir interviewed Monastic Sister Hai Nghiem (Sister Harmony) after she received the lamp transmission during the Great Ordination Ceremony last month in Plum Village.
What's your name?
My name is Sister Hai Nghiem.
How old are you?
I'm 33.
When and where were you ordained?
I ordained in February 2008 in Plum Village.
Where do you currently live?
I live in New Hamlet of Plum Village.
As of July 2016, I have moved to Maison de l'Inspir, the Plum Village centre in Paris.
What does it mean for you to receive the lamp?
For me, to receive the Dharma lamp means to grow in the community. It means to be more mature and more solid in my spiritual practice. When I think that I now have the lamp, I remember my commitment in the community as well as the trust that the community has offered me. It also means that I will learn even more now: I will participate in the meetings with the elder Brothers and Sisters, so I will understand the community even more.
Now, I have a wish to develop my capacity to share, to share the Dharma, to be able to tell stories, to speak about my experiences. To me, being a Dharma teacher of the Plum Village tradition is not to repeat all of Thay's words or recite by heart the sutras, but it involves finding my own way, my style of sharing my experiences of practice. So I am a bit scared to do this, but at the same time very happy!
Of all the practices taught by Thay, which do you like most?
Mindful breathing! I like this practice; it's never boring. It's always interesting, and I also always forget to do it. It's for pleasure, but at the same time, it's a very, very deep practice. I'm often sick; I get migraines, and it's the breathing that helps me through these times. I'm also very often in a bad mood, and again the breathing helps me come out of it.
It also helps when I'm well; then I feel even better. What's great is that it's not a Buddhist thing to do, and it's accessible for everybody.
Do you like to say something for the friends of Maison de l'Inspir?
Yes, THANK YOU! I have many friends in Maison de l'Inspir whom I meet every time I go back there. They are very faithful; they come to every Day of Mindfulness. We share joy and serenity, which I appreciate immensely. When I join Dharma sharing, it's very alive, very real. Many people also offer their talents: arranging flowers, leading tai chi, guiding days of practice for teachers or young adults… and there are all those who help Sister Giac Nghiem (Sister Abbess) with the accounting or other work.
One more thing I love is that there is a lot of friendship between practitioners, whether they are Vietnamese, francophone or non-francophone. Our friends should encourage us so that there can soon be a house for the monks. If the request can come from the male lay practitioners, it could have a bigger impact than if only the monastics express that need.
I want to thank all the people, in France or other places, who consult the Maison de l'Inspir blog and practice with us through the blog. When we know that people are reading us, it makes us want to write!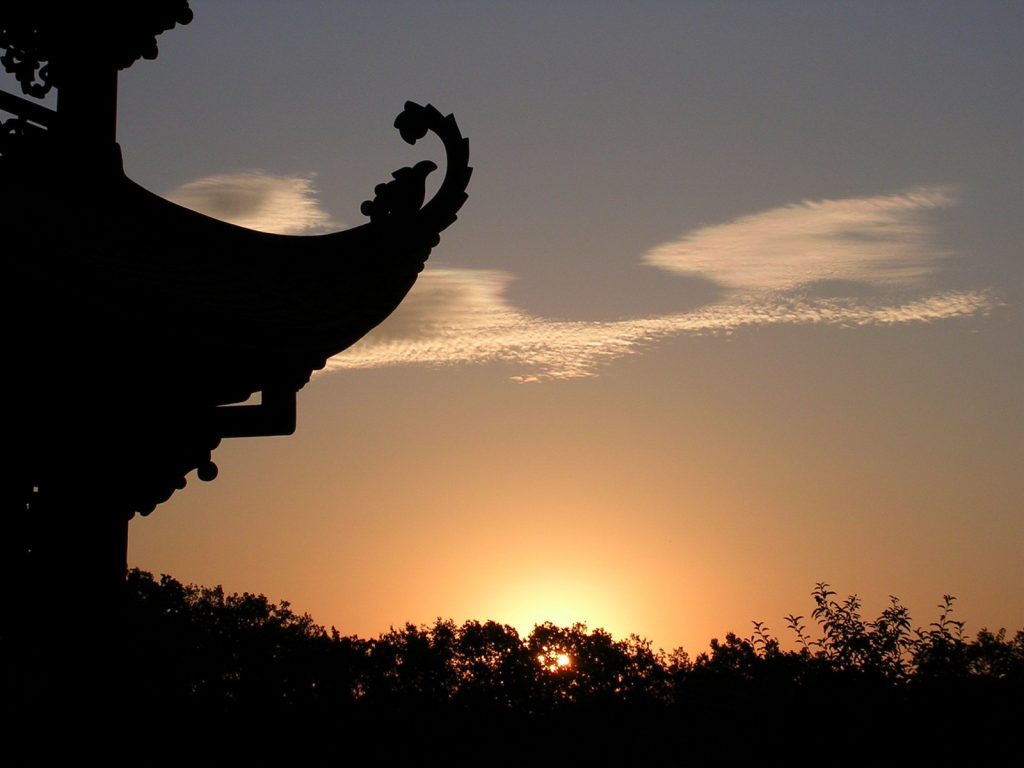 Here's the gatha of looking deeply from Sister Hai Nghiem:
Mother and child I am
Grown of Earth outside of time
You, the great tree and sweet fruit
Are the star where I take root
Đất mẹ thở cho con (Mother Earth breathing for me)
Mặt trời cha hôn con (Father Sun giving his kiss)
Con bước chân hôn mẹ (With each step, Mother I kiss)
Con thở biết ơn cha (With each breath, Father I thank)
Thầy chỉ đường đi rồi (Thay has revealed a deep path)
Độ đời con khỏe nhẹ (Lightness, strength, all to be shared)
Cả nhà về anh ơi (O my brothers! We've come home)
Chị em hát xuân ca (Hear our sisters sing the spring)

Here is her commentary:
My gatha speaks above all of my infinite gratitude to my parents, my brothers, my teacher, my spiritual family, and the Earth or nature in general. I express in a non-mental way the feeling, in my body, of being a mother: my own mother is truly present within me, but also I can feel a relationship of motherhood to all people.
When I was 19 or 20, out of despair, I decided I would not give birth. However, today I have developed a practice of contacting the inner child who may be happy or suffering, who lives within each man and woman, within my monastic Brother or Sister, within my parents, etc. It is a daily vision. That is how I generate tenderness; and despair is no longer in control! I can do all of my part to take care of the suffering children in this world.
Of course, I am also the child. I feed myself with joy, an inventive mind, wild and bewildered moments, moments of sharing. Each second I am able to generate tenderness for another does as much good to my own inner child.
And then, I am Mother Earth, and all the life that springs from her. Always, I return to touch this infinite budding and re-disintegration, re-kneading of death and life. What precious teachings are impermanence and non-separation! I am walking with small steps to surrender to the wholeness of our Earth-Mother, Earth-Child… and I always feel in my soul the burning call of those future generations who want to live but who see me, who see us destroying their chance to live. I am not less torn than on the first day, seeing the polluted water, smelling the toxic air, touching the felled trees, hearing the animals blindly killed, and connecting with the children, the women, and men whose divine value is trampled upon.
The tree, the fruit, and the star where I take root remind me of my father. He gave me so much spiritual food, and he also sharpened my observation of nature. He might bring out a picture of me as a 9-year-old wearing no more than a crown and clothes made of chestnut leaves stitched with twigs, or tell me again how when I was three I would know the names of wild plants and which ones were edible. Because he tells me this, I continue to love learning from plants and to first notice beautiful fruit trees, animals or birds before road signs while driving. And I realize that is what true life is, at least for me: it is to recognize and continuously drink the abundance of beauty, goodness, and love given by life. I am incapable of living too long in the company of computers, cars, shops, and houses.
So in the second part of the poem which I originally wrote in Vietnamese, I celebrate these infinite gifts: the Earth, the Sun, the breath, the steps, the spiritual path, my teacher, and my Sangha. I clearly hear the Sangha and Thay's encouragement to stay committed in the transformation of afflictions and in service, to find in my commitment itself the source of well-being, and to walk this path holding hands with my entire blood family and Sangha in the realm of eternal spring, in the kingdom of God, in the country where my heart heals and sings boundless love.