Anneke's Cooking Blog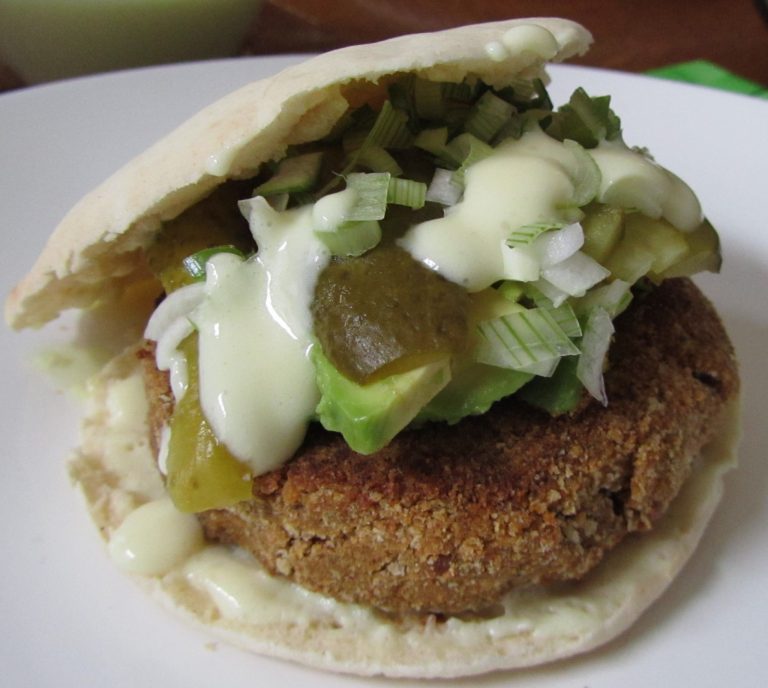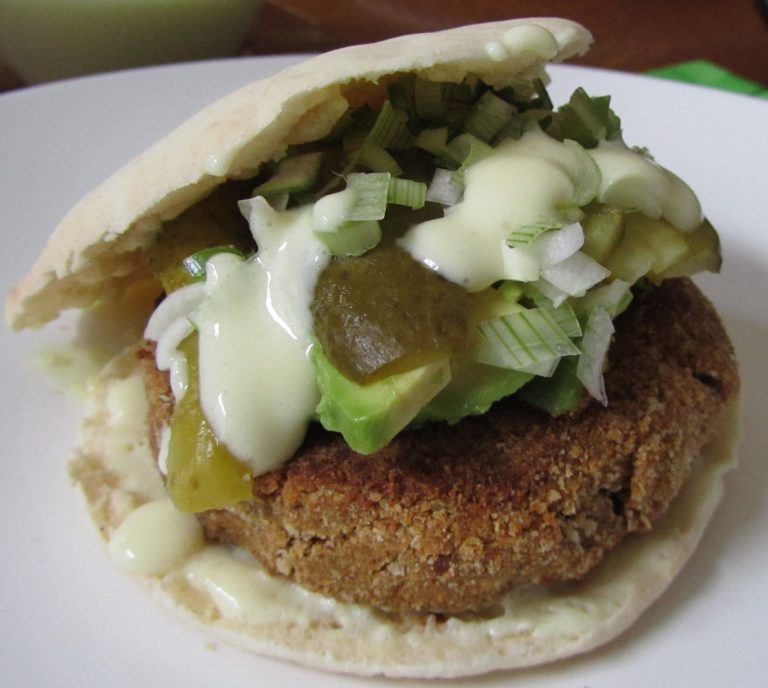 Summer is here! Which means that I, and many others along with me, start to long for a BBQ! Even when you don't love them, when it comes to family gatherings, evenings with friends, or company events, there's just no escape from them. For the mindful consumer however, they often bring along a dilemma. Am I taking the easy way out and I'll just eat the standard burgers, steaks, and sausages? Or am I going to ask for something vegetarian or vegan, or even bring food myself?
I chose the latter a couple of weeks ago for a family BBQ and experimented with a bunch of vegan burgers. I intended to take my meat-loving loved ones by surprise and present them and myself with conscious and tasty alternatives 🙂 And it worked!
Below you'll find recipes for two vegan BBQ burgers that I tried out. The first recipe is a burger based on sweet potato (which I absolutely love cooking with!) and white beans with an abundance of herbs and spices, combined with a tasty vegan garlic sauce. The second recipe is for a burger in Mediterranean style, made with black beans, black olives, couscous and sun-dried tomatoes. I added a surprising sauce consisting of ground cashew nuts, raspberry, and cayenne pepper. I found the recipes on various cooking blogs and altered them to my own liking. The burgers are pre-baked in a frying pan and can then be prepared on a BBQ grill. But an oven works well on rainy days!
At the BBQ, my family enthusiastically approved the burgers. But there was quite some meat, too, which I ate some bits and pieces. Even though I experimented with vegan cooking for this blog post and usually eat vegetarian or vegan meals about 3-4 times a week, I am not sticking to a vegetarian or vegan diet. In the past, I tried both for quite some time, but I couldn't pull it off. Yet the topic kept me thinking ever since I started writing my first blog post about quiche here.
For some years now, I have been on a path towards becoming more mindful and loving in my relationships, my work, and the way I deal with myself. Cooking and eating have also come to my attention in that regard. But as with most things in life, they have their ups and downs. However, I have noticed a strong tendency in me to blame myself for everything that I haven't 'done right yet', especially when it comes to food. So it didn't come as a surprise when, over the past few weeks, a very determined little voice started shouting in my mind and asked why I hadn't become a full-time vegan yet. Didn't I, after all, have the strong intention to not only be more loving towards myself and those around me, but also to the earth and the animals?
But when I looked at it more closely, I came to see that this challenging little voice also came from a way of dealing with myself that is not quite so loving. When I don't live up to my own 'rules' about 'doing the right thing', I can be quite rigid, and this causes a lot of stress and negativity in me. I am actually being violent towards myself when I allow myself to act that way. So now I am kind of stuck. I feel deep down as if the intention to do good should be accompanied by a positive energy and a loving, natural action. When that is absent, only pushing and pulling remain, and that causes suffering in myself; so I have noticed this around me.
How exactly I can deal with this in my eating habits hasn't become quite clear to me yet, but I resolve to continue to look closely at this process in myself. But as long as 'having the intention' and 'I must' are strongly interrelated in my mind, I won't pressure myself into a vegan diet. It feels as an important first step, on the other hand, to share my dilemmas in this blog post. My guess is that some readers will recognize parts of it from their own experience, so I would love if you could share them with me!
Sweet Potato and Cannelini Bean Burgers with Vegan Garlic Sauce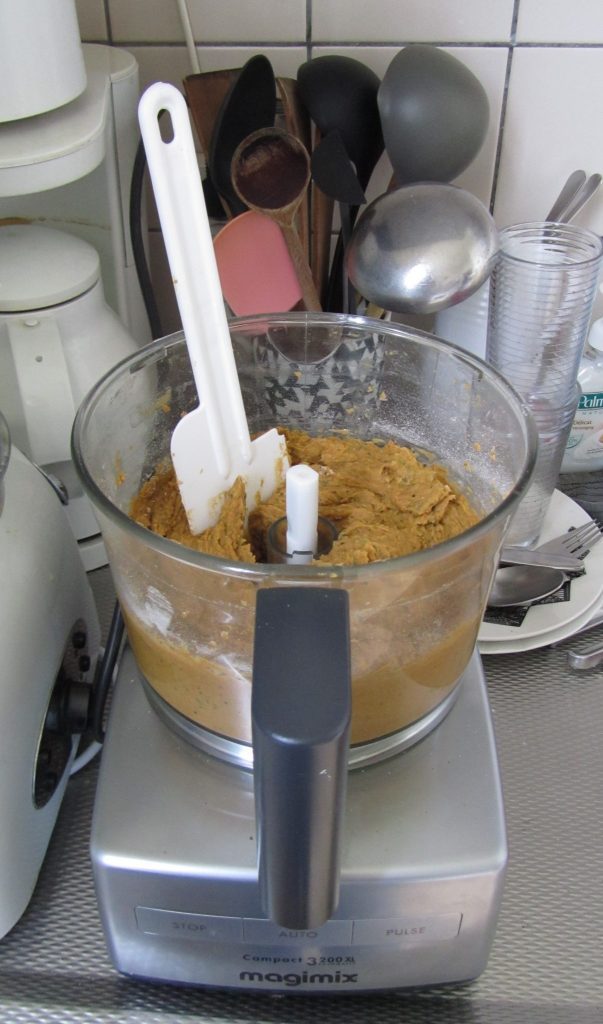 For the burgers (45 mins preparation + 10 mins on BBQ / 20 mins in oven):
Ingredients: 250 g sweet potato / 1 can of cannelini beans or other white beans / 1 small onion, chopped finely / 1,5 tbsp tahini / 0,5 tsp apple vinegar / 1 small clove of garlic, pressed / pinch of cayenne pepper / 0,25 tsp paprika powder / 0,25 tsp black salt (optional: this gives a more smokey taste) / 0,5 tsp salt (or more if you don't use black salt) / 0,25 tsp oregano / 0,25 tsp thyme / 1 tsp nigella seeds (optional) / 0,25 cup flour / 2 tbsp nutritional yeast (or extra flour) / hand full of fresh coriander (cilantro), chopped / vegan bread crums (the Dutch brand Joannesmolen is vegan), optional / coconut oil or olive oil for frying.
Pre-heat the oven (200 ºC for hot air, 220 ºC for electrical oven). Peel the sweet potatoes and cut them in wedges. Mix them in a bowl with some olive oil and some salt. Cover the baking tray with baking paper and put the wedges on it. Bake in the oven for approximately 15 mins until golden.
In the meantime, rinse the cannelini beans in a sieve and drain all the fluid. Put them in a bowl or use the biggest bowl of your food processor to collect all the ingredients. Add all remaining ingredients except for the breadcrumbs and mix with a fork, or process it in the food processor for several minutes. Lastly, add the baked sweet potato. You can let the wedges cool down before adding them, or put the complete mixture in the fridge for 30 mins before turning it into separate burgers. A cooler mixture is more firm, making it easier to shape the burgers.
Shape the mixture into balls by using two tablespoons and roll them through a layer of breadcrumbs on a plate (the breadcrumbs are more prone to burning on the BBQ, so you can leave this step out if you like). Pre-heat some oil in a frying pan and press the balls into burgers. Fry on medium heat for 6-8 minutes until both sides are golden. You can do it in two or three rounds if they don't fit in the pan together.
The burgers are now pre-baked and ready for the BBQ grill or oven. In the oven: bake for 20 mins (turn halfway-through) at 180 degrees. This makes the burgers firmer on the inside compared to frying them in a pan only. On the BBQ grill: bake for 10-15 mins whilst turning regularly.
For the garlic sauce (10 mins preparation time):
Ingredients: 0,75 cup soy milk, 1,5 tsp lemon juice / 1 tsp Dijon mustard / 0,75 cup olive oil / some salt and pepper / 1 clove of garlic, pressed.
Mix the soy milk, lemon juice and Dijon mustard in a food processor or with a hand mixer for about 30 seconds. Continue to blend while adding a thin stream of olive oil until the mixture gets thicker. Lastly, season with the pepper, salt and garlic.
Mediterranean Black Bean Burgers with a Hot Raspberry Sauce
For the burgers (30 mins preparation time and 10-15 mins baking on the BBQ/20 mins in the oven):
Ingredients: 1 can of black beans, soaked and rinsed / 0,5 cup cooked couscous or quinoa / 1 clove of garlic, pressed / 4 sun-dried tomatoes, any oil squeezed out / 8 black olives, no stones and in small rings / 1 small onion, very finely chopped / 0,25 cup flour / 2 tbsp nutritional yeast (or extra flour) / 0,5 tsp ground cumin / 0,5 tsp ground black pepper / 0,5 tsp paprika powder / 0,5 tsp oregano / 0,5 tsp thyme / 0,25 tsp black salt (optional) / 0,25 tsp salt (or 0,5 tsp if you don't use any black salt) / pinch of cayenne pepper / vegan breadcrumbs (the Dutch brand Joannesmolen is vegan), optional / coconut oil or olive oil for frying.
Mix all the ingredients, except the breadcrumbs in a bowl or food processor, until it reaches an even texture. If possible, put the mixture in the fridge for half an hour. This makes it easier to shape the burgers. See the instructions above (used with the Sweet Potato Burgers) for shaping, pre-baking, and baking the burgers. When you use an oven, pre-heat the oven whilst the mixture cools down in the fridge.
For the spicy raspberry-cashew sauce (10 mins preparation time):
Ingredients: 2 cloves of garlic, pressed / 1 cup cashew nuts (roasted) or almond flour / 1 tsp paprika powder / 0,25 tsp cayenne pepper / 1,5 cup raspberries, thawed / 2 tsp agave syrup / 0,5 tsp salt / 4 tbsp olive oil.
Blend the cashews in a food processor and add the garlic. When you don't have a food processor, use almond flour and mix with the pressed garlic. Then add the remaining ingredients and blend into a thick sauce. If you like you can add some water to make it thinner.
— — —
Any remaining pre-baked burgers can be kept in the fridge for several days or even be frozen for a several weeks time. It's an excellent recipe to make in advance when good weather is expected or dearly longed for 😉
I ate these burgers on some pita bread with a topping of avocado and sliced gherkins. Verrrrrrry tasty with lots of sauce!!!!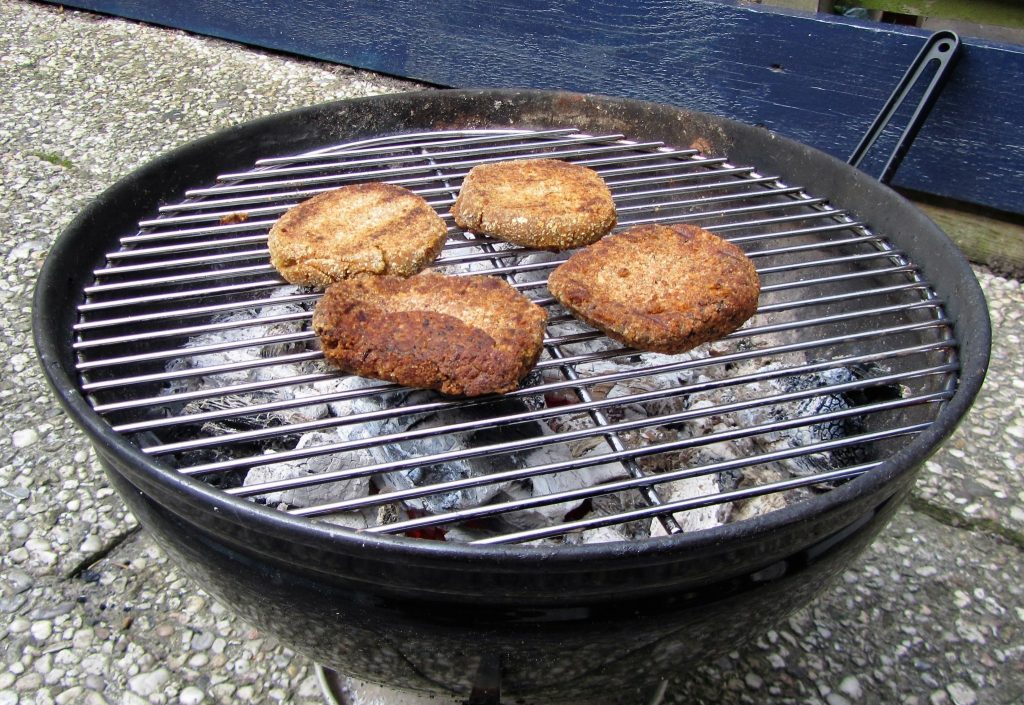 This article was originally published on wkup.nl