By Logan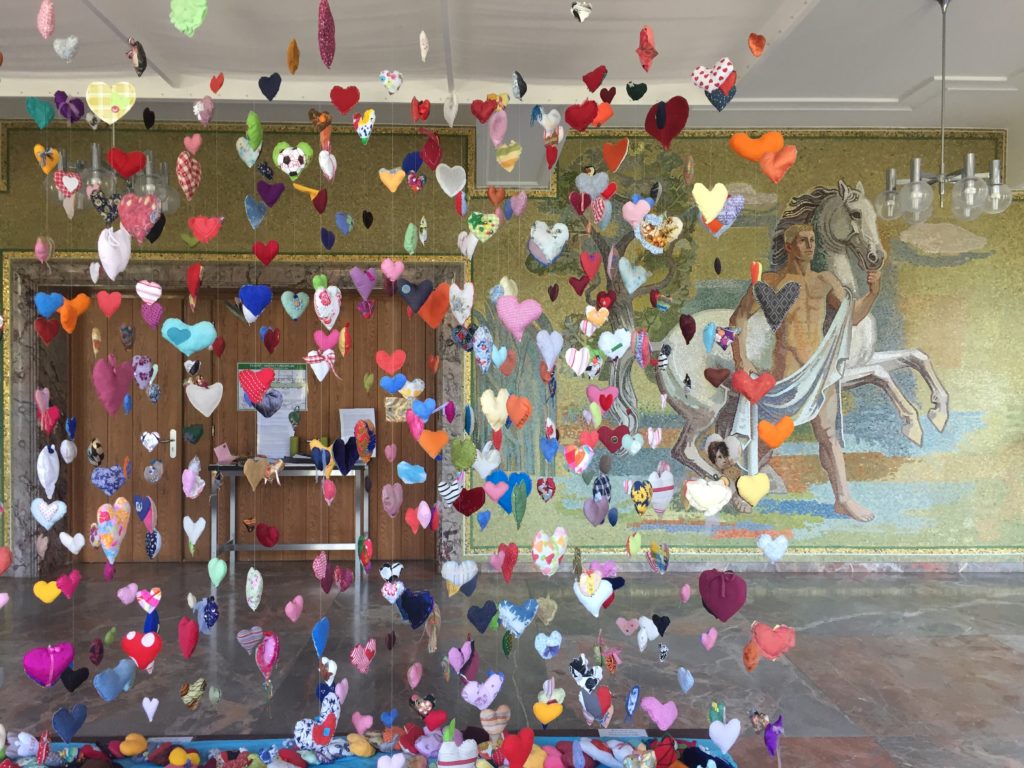 Last month, I had the chance to attend a retreat at the European Institute of Applied Buddhism (EIAB) in Germany. It happened to be amidst a lot of changes happening in my life—perhaps the biggest among them relating to how I view sex.
A couple of weeks before coming to the EIAB, I was contemplating the Third Mindfulness Training in particular. My relationship with this training has been especially tumultuous. Sexuality has played a huge part of my life since I was eighteen. Over the course of my retreat, I spent a lot of time looking back at my experiences with casual sex and how it has affected my life.
I discovered a pattern: whenever my mindfulness practice was at its strongest, I wasn't meeting people just for sex. Whenever my mindfulness practice was at its most dispersed, I was meeting several people for casual sex and sometimes not even having a conversation beforehand: hardly a "true love and deep, long-term commitment made known to family and friends." I was hoping I would discover that the training was exaggerated, that I was right, and that all this casual sex was great for my mindfulness practice. Womp womp for me. The truth can be so terribly inconvenient to my cravings and desires.
That being said, I think there are alternative wordings and interpretations of the Third Mindfulness Training that would be beneficial in cultivating more openness and non-attachment to views about sexual energy. Of course, I understand that we are not meant to interpret the trainings as dogma or law set in stone. But words are very powerful, and they could help provide even more insight. When I say casual sex, I am referring to meeting someone specifically for the purpose of sexual gratification. I will admit this has not always brought me extreme suffering, but the trouble with this is you don't understand the person other than through their sexual desires. You don't know very much about their pain, their joy, or their life situation.
With that in mind, I do not believe that the Third Mindfulness Training requires a monogamous, romantic, "one true love" commitment to your sexual partners. Being an actor who travels a lot, I have had friends with whom I have shared sexual relations with, and we were neither monogamous nor romantically entwined. However, what made those relationships different and in alignment with my practice was the existence of care and the cultivation of the qualities of true love. While long-term may have meant only being together physically for a couple months, this didn't cheapen our care about each other in the present moment, and that love continues into the present moment, even if we do not play a large role in each others' lives anymore.
Because of these experiences, I believe the following sentence could use an alternative word: "Knowing that sexual desire is not love, and that sexual activity motivated by craving always harms myself as well as others…" I think the word "always" used here is not completely accurate. Though perhaps when the phrase refers to craving, it is referring to a specific kind of energy that is different and more out-of-control than a more clinical idea of craving.
Craving is a tricky topic, and it is up for different interpretations. Biologically, craving is what propels our species forward through craving for food, water, companionship, and sex, but when it controls us, it brings us great suffering. I think the Buddhist understanding of craving often refers to the kind of strong desires that make it hard to be mindful and loving versus natural urges that keep us happy and healthy.
And even more confusing is that sex lies in a middle ground of not always harmful, sometimes wonderful, but not necessary for our happiness (as from my experience, the happiest people I've ever met are monks and nuns.) We can all agree that when you are hungry, it is okay to eat some food with an understanding of what will be nourishing to your body. I feel cravings for sex can sometimes be similar to a certain degree, and a loving, caring partner is someone whom you entrust with your strong desires. When we feel a deep desire for love on a physical level, we must be very mindful though since these energies can quickly become the craving that causes us to act against our deep volitions; however, when you are sharing with someone whom you care deeply about and trust, I do not think it will always cause harm. I think the word "often harms" or "can easily harm" better reflects my own truth, and I imagine many others as well.
Then we get to the second half of that sentence. "I am determined not to engage in sexual relations without true love and a deep, long-term commitment made known to family and friends." Like I said earlier, I was hoping my reflections would lead me to confirm my thought that this must be an extreme vow! I was wrong. I do, however, interpret it a bit more loosely. I often say "the elements of true love" instead of just "true love" to help me remember that true love isn't something that is either present completely or absent completely. True love is made of always changing, non-true-love elements.
When it comes to "true love," I imagine a lot of westerners—Americans in particular—will think of a Disney movie or some sort of amazing monogamous romantic explosion of love, care, and cuddling. For me, it's a little simpler. When I see the words true love, I see the four elements that create it: loving kindness, compassion, sympathetic joy, and equanimity/inclusiveness. If I share these qualities with a person, I feel there is a natural commitment to each others' well-being that is deep.
Because of this, I don't think romance or monogamy need to be involved, though I do think those things are awesome for a lot of people when used in combination with the four elements of true love. I have many friends who have wonderful relationships: some of whom are monogamous, others who aren't. Some love the more romantic aspect of their relationship in the traditional westernized sense, and others prefer a more grounded approach. When I see people thriving in relationships, the common denominator is always the loving kindness and compassion the two partners share. Everything else depends on how the individuals feel and express love in their own unique way.
I also don't think long-term has to mean that we're committed to having sexual relations for an indefinite period of time. I think it means that our hearts are going to remain open to each other even after our sexual relations end. We aren't going to use or exploit each other for our own greed, but we are going to trust each other with the powerful energy that is our sexual desire.
This has become my own middle way over the last couple of months. Ask me again in a year, and I'll probably give you a different answer. Who knows, maybe one day you'll even see me sporting a brown robe with a shaved head… 😉