Wake Up & Slim Down, Thailand
December 2, 2022

-

December 8, 2022

3900Baht – 4900Baht
Itinerant Health Retreat in the Plum Village Tradition
December 02 to 08, 2022, Mae Hong Son, Thailand
The Health Retreat for Young People from Asia and beyond, which takes you adventuring through the gorgeous  paths of the classic 'In Search of the Song of the Gibbon' route.  A chance to have fun, heal our bodies and mind,  practice mindfulness and cultivate togetherness with a small group of new friends from the region!
The  theme  of  this  retreat  is  « Taking  Care  of  Our  Body  and Mind »  by  practicing  meditation,  hiking  in  nature,  relaxation,  following an appropriate  diet and  other  to  our  health beneficial  practices. Together as a  travelling fellowship, we aim to develop our awareness of the interdependence between the food we consume, our body, our  mind and the environment we are living in. To preserve a healthy body and a clear mind, we have light, vegetarian  and organic meals. At the same time we are hiking to help our body tap into accumulated reserves and renew itself  during  the retreat and while  facing  the challenges of our  route. During  the whole  retreat, Thây Phap Lu, a senior  Dharma teacher of the Plum Village Monastery in France, will be our spiritual guide.  The rhythm of our journey will be marked by teachings, sitting meditation, silent walking meditation, mindful eating  and other practices that we can apply to our daily lives. We will have a sharing circle each day, giving every participant  the opportunity to share with the group her/his inner state in the present moment, and to listen and support one  another deeply.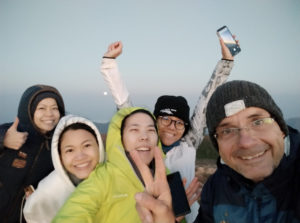 Food and lodging will be provided by Karen mountain tribe families of each village (authentic homestay).   We will practice according to the teachings of our spiritual teacher Thich Nhat Hanh and all participants are invited  to participate actively and observe the 5 Mindfulness Trainings.
Hosted by Suan Sompou.