Wake Up: be free where you are
May 5, 2016 @ May 5, 2016

-

May 9, 2016 @ May 9, 2016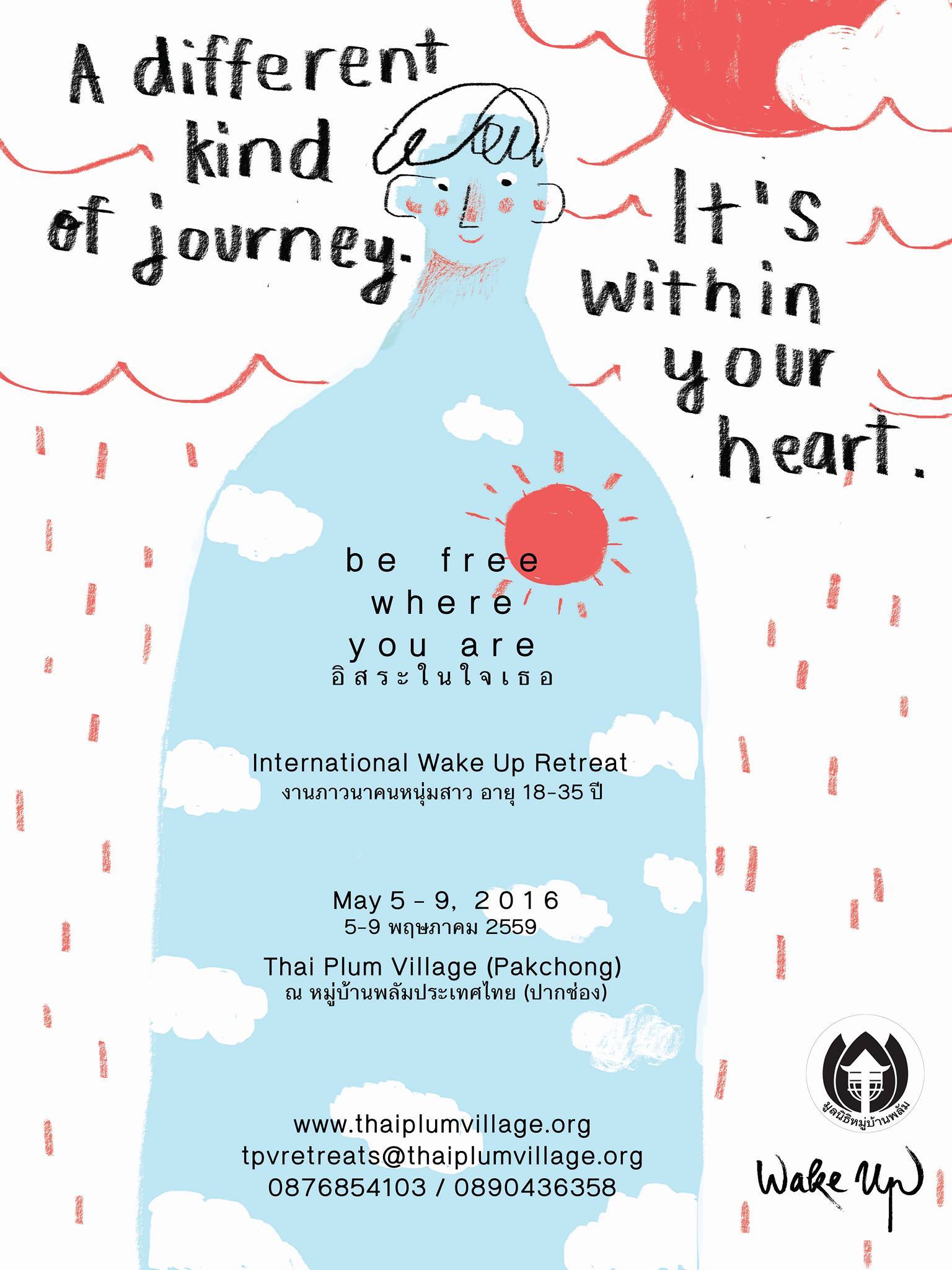 Dear friends!
On the summer days, the sea is really beautiful with the blue color. The sun shines radiantly and the clouds float leisurely in the sky. Where will you be? What will you do on those days?
Would you like to enjoy the moments with peaceful steps, lovely smiles, stillness of sitting meditation in the early morning, hands tightly hold as well as joyful hearts of those who are sharing their happiness and aspirations in lives with each other? We all are connected in the world. The peace here will also mean the peace there.
Let's come sharing these beautiful moments together in this 5 days International Wake Up Retreat "Be free where you are". We welcome all the young people from 18 to 35 ages to discover the peace and love within and all around.
Date and Time: 10.00am 5th May – 14.00pm 9th May, 2016
Venue: Thai Plum Village International Practice Center, Pak Chong, Thailand
Main Language: English (translation provided for Thais and Vietnamese)
Number of participants: 350 people
Daily Schedule:
4:45        Wake Up
5:30        Sitting meditation, Chanting, and Walking Meditation
7:30        Breakfast
8:30        Working Meditation
9:45        Singing meditation
10:00      Orientation/Dharma Talk
12:00      Lunch
13:30      Total Relaxation
15:00      Sharing from the heart
16:30      Sports and Games/ Personal Consultation
17:30      Dinner together
19:30      Presentation on 5 Mindfulness Trainings, Beginning Anew Presentation, Performance
21:30      Noble Silence.
Participants: 350 people (aged 18-35 years old)
Participants should be able to stay throughout all 5 days. The program will start at 10am on the first day and will finish at 2pm on the last day.
We provide 3 vegetarian meals per day.
Please dress in a respectful manner as this is a monastery.  Please do not wear shorts or tank tops (singlets), wide or open-neck t-shirt, loose attire is preferred and the most comfortable for sitting meditation.  This is also for you to feel more at ease around the monastic brothers and sisters. You don't need to wear all white outfits.
The accommodation is separate dormitories for females and males.
Please bring umbrellas, hats, flashlights, mosquito repellant, jackets, sleeping bags, sport shoes, flip-flops, and your own medicines (if any).
Very important: please bring your own water bottle or glass (we have the refill water stations for you).
We will not keep your cell phones but we would like you to use them as less as possible and only during your free time. Please do not use the cell phones during the activities and always put them in silent mode.
Transportation:
If you would like to travel by the provided bus/van, there will be an extra charge of 700 baht per person for the round trip transportation between Bangkok and Thai Plum Village.
May 5th
Meeting Point 1: In front of McDonald's, Amarin Plaza, Chidlom BTS Station (E1). Departure Time is 6:00am.
Meeting Point 2: ESSO petrol service station, Phahonyotin Road, next to BIG C supermarket, before the entrance of Meongeak Village at 6.30am.
May 9th
Leaving Plum Village Pakchong at 2.00pm
First stop: Don Mueng Airport
Final stop:  BTS Chidlom station around 6:30 pm.
Course fee (not include the transportation fee)
2,500 baht for adults
2,000 baht for students and/or adults who need this financial support
You can also donate to support our friends in need of financial support and/or to help our Wake Up activities by:
Transfer the money to
Account Name: PVF for Retreat
BANGKOK BANK PUBLIC COMPANY LIMITED / SIAM PARAGON BRANCH,
Account no. 855-0-13333-7, SWIFT CODE: BKKBTHBK
KASIKORN BANK PUBLIC COMPANY LIMITED / SIAM PARAGON BRANCH,
Account no. 738-2-06689-4, SWIFT CODE: KASITHBK
** Please send the payment slip via email: tpvretreats@thaiplumvillage.org within 7 days to confirm your registration.
** If you are not currently in Thailand, you can pay at the retreat. After registration, please send us an email at tpvretreats@thaiplumvillage.org to confirm your registration.
The registration closed on April 24that 6pm, or when the number is full
For more information:
tpvretreats@thaiplumvillage.org
Facebook: Wake Up Thailand
Tel: 087-685-4103, 089-043-6358 (between 9.00-20.00)
We are looking forward to seeing you in our retreat!
Organization Team
Wake Up Thai Plum Village