Sangha of the Month for January 2016: Wake Up Milpitas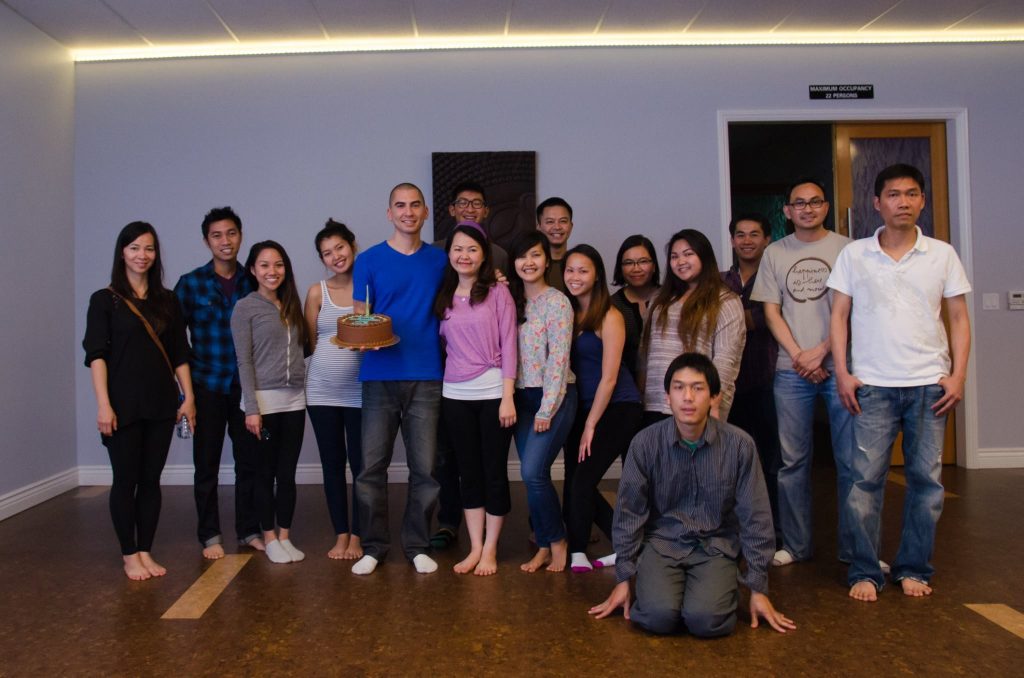 How did Wake Up get started in Milpitas?  
Wake Up Milpitas started during the first planning meeting for the Viet Wake Up Tour in November 2013. About two dozen of us who expressed interest to help organize for the tour came together at a Yoga Studio in Milpitas. We split up into small groups, sharing and discussing our practice. The most important things were to practice as a Sangha and then allow the organizing of the tour to stem from that. So we created Wake Up Milpitas to support ourselves and prepare for the tour coming to the San Francisco Bay Area!
The most important thing we have recognized is that many seeds and many conditions were present for us coming together to start Wake Up Milpitas. The family of Ethan Ma, a young high schooler, had personally talked with Thay of having a Viet Wake Up tour coming through the Bay Area. Ethan and his family had brought about our initial fruitful organizing gathering and have supported Wake Up Milpitas in offering their Yoga Studio since then. The local Dharma teachers who came to those first Wake Up Milpitas meetings have also continually showed support. And of course, the many members who have, at that time in their lives, found our Sangha as a safe place to be and to grow.
What kind of people come to your Sangha?  
Most of us are young working professionals in the Bay Area, but we also have some young families (parents and children). College students join us, too. The child energy keeps us on our toes. And young parents in their 30s. We think it's very special that we get to support them, and they support us at this special time in their lives. We are recognized as a Viet Wake Up Sangha since that's how we initially started, so there are many Vietnamese. But many of us are of other ethnicities as well.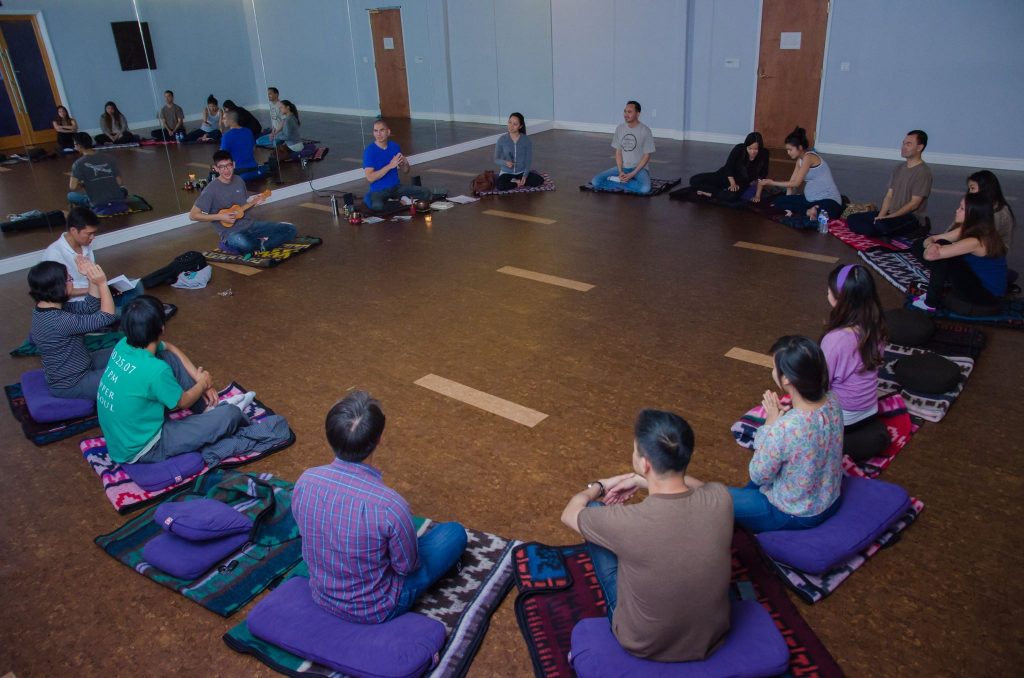 Where and when do you meet?  
We meet twice a month on Saturdays from 4pm to 6pm at a Yoga Studio in Milpitas. Although on occasion, we sometimes meet outside at a lake or at a park. We are also flexible with timing, as the Yoga Studio is not always available. If all of our core members are not able to make it, we might meet on Sunday instead.
On average, how many people show up?  
It fluctuates anywhere from five up to twenty. Once in a while, we have Dharma teachers joining us which draws a higher turnout. One of the practices we have learned in Sangha-building is to not be attached. The Bay Area is a very busy place and if we see someone show up once or twice, we are happy that they have taken the time to join and share their presence and time with us.
How are your gatherings?  
Our gathering starts with some songs. Then we do a short sit, short walk, and some other activity. It might be a reading, a recitation of the Five Mindfulness Trainings, or to listen to a recorded talk. After that, we do a Dharma sharing and listening. We might end with another song. Finally we have some announcements and close the Sangha with a gatha, offering our merits of our practice. The timings have varied, as sometimes a newcomer will join us and we will give some extra instructions. Sometimes if it is a very small group, we will start and stop each activity with a bell.  We have been getting better at co-facilitating. One of us likes to bring a ukulele so he will start with a song, and maybe another member might guide us in sitting or walking meditation with a gatha or stretching with intention. That's our normal structure.
Do you do activities outside the Sangha sessions together as a Sangha?
Yes we do!
We've gone on retreats, hiking, bowling, watched films, sightseeing (e.g., Thich Nhat Hanh's memorial in Oakland – "Remember Them"), and we recently had a potluck/game night/full moon howling/sleepover. We have often participated in the greater Bay Area collective Sangha Day of Mindfulnesses, as well as Dharma talks outside of our tradition. And of course, we love to enjoy lots of yummy vegetarian food together as a Sangha, usually after our session has concluded.  We are also available to each other 1-on-1 outside the Sangha via Facebook, email, text, phone, and in person, especially in times of hardship, life events, etc.
What makes Wake Up Milpitas special?
Wake Up Milpitas offers a unique space for gatherings… a serene yoga studio (blankets and cushions provided) which is greatly supportive to the practice of meditation and mindfulness. This Sangha creates a space that encourages people to be vulnerable, let their guard down, stop/breathe/smile, and feel safe and supported by their friends in the practice who care for them.
We are very skillful at maintaining a mindful environment during our entire session. The Sangha has a genuine feel of a family, with two of the core members being younger than 10 years old and the oldest being 34 years old. In addition, Wake Up Milpitas has welcomed and benefited from numerous elders in the the Plum Village tradition, who are young at heart and have practiced with us over the past two years.
While having Vietnamese roots, it's clear to see Wake Up Milpitas as a continuation of other longer standing Vietnamese Sanghas and there is a strong support network supporting this Sangha.  We have connections to many Order of Interbeing (OI) members, Dharma teachers, and even monastics. One of our day-long gatherings was with a sister from Plum Village at a park for a picnic, hike, and sharing.
If you'd like to get in touch with Wake Up Milpitas (the Sangha has been renamed to Wake Up South Bay), click here or visit their Facebook group.