Engaged Buddhism Sangha
December 12, 2021 @ December 12, 2021

-

December 12, 2021
Members of Wake Up Munich invite all young practitioners ages 18-35ish to monthly online meetings on Engaged Buddhism.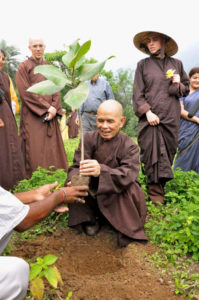 "When I was in Vietnam, so many of our villages were being bombed. Along with my monastic brothers and sisters, I had to decide what to do. Should we continue to practice in our monasteries, or should we leave the meditation halls in order to help the people who were suffering under the bombs? After careful reflection, we decided to do both—to go out and help people and to do so in mindfulness. We called it Engaged Buddhism. Mindfulness must be engaged. Once there is seeing, there must be acting… We must be aware of the real problems of the world. Then, with mindfulness, we will know what to do and what not to do to be of help."                  Thich Nhat Hanh

Our intention: The Engaged Buddhism Sangha is an initiative of Wake Up Munich members in Germany and shall offer an opportunity to share about global topics that touch you, about ways you find to deal with these topics, about projects you engage in and about resources that inspire you or give you hope. The Sangha meeting shall be a space where we as a group can be in contact with the suffering and the happiness that is in the world and with what is going on in ourselves.
Meeting structure: We will start with a weather report and a meditation to arrive together. Afterwards we will read some input on Engaged Buddhism in order to get in contact with the Dharma spirit of activism. The main part will then be an open Dharma Sharing where we can share about our experiences and topics that touch us. In the end we will close with a happiness sharing in order to cultivate the seeds of happiness in us especially when facing suffering.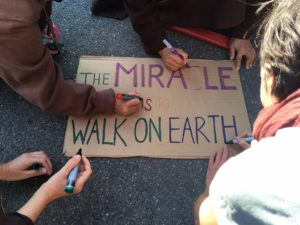 Logistics: All people in Wake Up age (18-35) are welcome to join! If you would like to receive a monthly invitation, please write to johannaschneider@web.de
Next meeting: Sunday, December 12th, 2021
7.30 p.m. to 9.30 p.m. (CET/Paris time)
10.30 a.m. to 12.30 p.m. (PST/Los Angeles time)
Click here to join on Zoom
Meeting-ID: 959 8093 5960
Passcode: 12345