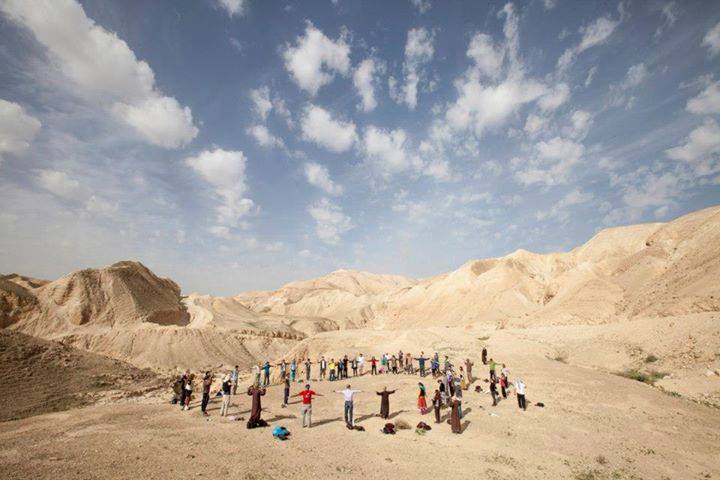 Dear brothers and sisters in the practice,
I hope this message finds you well, taking care of body and mind. Here in Plum Village the July retreat is over and the monastic community has moved to Germany for retreats at the EIAB. The trees, the birds, the blue sky and the sunshine have remained, reminding us to cherish every moment, the only moment we have to be alive.
I'm writing to ask for the support of your Sanghas for a special cause.
Thirty young Palestinians and Israelis, women and men, would like to come to Plum Village for ten days this autumn and the community is doing its best to welcome them and support them in their aspiration to live lives of peace and transformation. Many of them are already familiar with the Plum Village tradition, having attended retreats with monks and nuns in Israel and Palestine. For other participants it would be their first direct experience, and they have a sincere wish to be exposed to the practice, learn and deepen it, and to benefit from the nourishing environment of Plum Village. In these troubled times, this may be also an opportunity for them to touch much needed peace of mind.
Their program
These young Palestinians and Israelis will receive training relevant to their daily lives, such as applied mindfulness practices, taking care of difficult emotions, transforming negative mental and emotional habits, communication and listening, and creating communities for mutual support. In addition to the regular Plum Village program they will enjoy be-ins, hikes and sharing groups together with the monks and nuns, as well as a dedicated Dharma talk/Q&A.
What we need to make it happen
Plum Village is supporting the effort, with the approval of Thay and Sr Chan Khong, in requesting visas from the French consulate in Israel and in hosting the participants.
Our young friends will be making a modest contribution according to their means and economic situation.
Financial support is necessary, however, in order for them to travel to Plum Village.

How can you help?
We are looking for individuals or Sanghas to sponsor the travel costs of a participant, in order to make possible this experience and all the benefits it will bring to the lives of our friends, their families and societies.
We would be grateful if you could share this message in your Sangha and consider sponsoring a participant, in full or partially. The average travel cost is $700 (€530).
If you know someone for whom this initiative resonates with their aspiration, we would be grateful for your support in sharing this request with them.
Contributions can be made directly to Plum Village by bank transfer, with the note "WakeUp-MiddleEast-2014".
Bank account at Credit Agricole D'Aquitaine
Communaute Boddhique Zen
IBAN: FR7613306003424290119901196
BIC/SWIFT: AGRIFRPP833
Please also send an email to thebeautifulsouth@plumvillage.org so we can keep track of funds received.
This is only one more mindful action, building upon the practice and efforts of Plum Village, the Israeli Sangha, Palestinian practitioners and many supporters across the world and throughout the years.
With deep gratitude,
May all beings be safe, joyful and free.