Wake Up Thailand Retreat: Together We Are One
May 25, 2018

-

May 29, 2018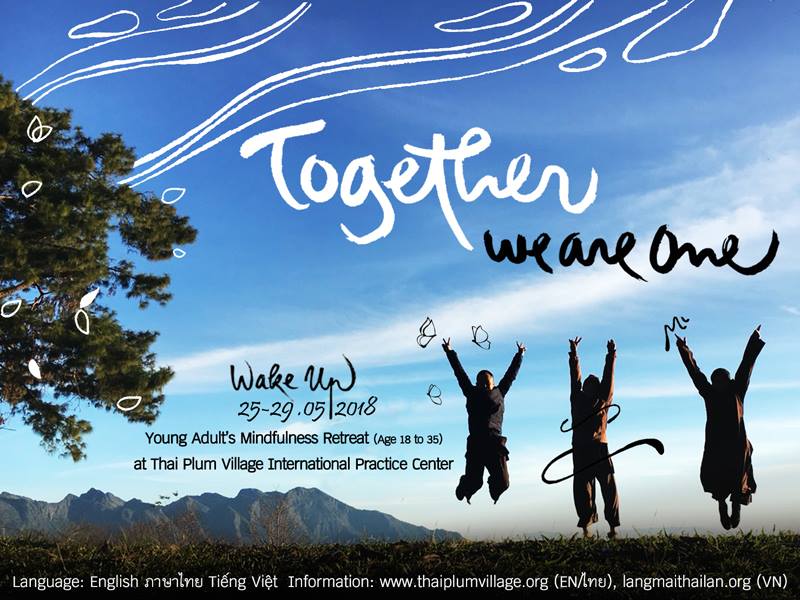 How long has it been since we last logged in to real life or connected with a loved one without the use of an electronic device? How long since we last really took care of ourselves? Have we used our inner capacity to release tension and stress, to heal, to feel authentic peace and joy any time recently? If not, what kind of food is there left to sustain us day after day, as our youth goes by?
It's now: time to live again, time to love without obstacles. The monastic community of Plum Village Thailand is very happy to have a new opportunity to welcome our young friends (age 18 to 35) from all around Asia and the world for a mindfulness 'Wake Up' retreat (25-29 May).
Together, we'll have the luxury of stopping the running and turning off the radio in our head. Together, we'll have plenty of time to be, to breathe, to connect with the best part of ourselves and to open up our heart to like-minded people of our generation. Together, we'll have opportunities to be close to young monks and nuns who will share their rich experiences of being true to oneself: they will show us how they generate peace, happiness and compassion; they will also tell us personal stories of crossing the deserts and navigating through the storms of their lives, of bringing about reconciliation in their relationships.
Together, we'll take refuge in the beauty of nature surrounding us and we'll leave legendary footprints of freshness and well-being on this sacred Earth. Together, we will be fully present with body and mind in order to build brotherhood and sisterhood, to create a strong spirit of community as we sit, sing, play, eat, work, walk, contemplate, relax, listen and share with one another.
Please offer yourself this well-deserved gift, and if you can, let your siblings and friends know so they may join you on this precious journey. Together, with friendship, with light and with energy, we are one!
Date and Time: 9 am, 25th May – 1 pm, 29th May, 2018
Venue: Thai Plum Village International Practice Center, Pak Chong, Thailand
Main Language: English (translation provided for Thais and Vietnamese)
Number of participants: 300 people (age 18-35)
Click here for registration.
Facebook link: https://www.facebook.com/events/180600525923783