Wake Up Retreat @ Healing Spring Monastery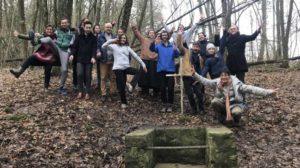 The Healing Spring Monastery organizes a Wake Up retreat for young adults from May 20th to 24th.
Young and lively practice
Young adults (~18-35 years old) are invited to gather in our young monastery to cultivate our master's vision of a way of life and practice that can bring joy, freedom and brotherhood/sisterhood to the very heart of the (hyper)active life that many young adults know today.
This retreat is an opportunity to enjoy all the practices of the Plum Village tradition and to cultivate the joy of being together, the great Wake Up community.
We will have a chance to sit, walk, eat, work, study, play, practice, listen and share from our hearts together in mindfulness, discovering a way of live that we can continue throughout our lives whenever and wherever we are, here and now.
Discovering the insights which we already have and to shine on our path of everyday life, a path of happiness.
For more info, click here for English and here for French
To help as a volunteer, click here
The monastics of Healing Spring Monastery look forward to welcoming you and sharing   moments of practice, brotherhood and sisterhood!
Facebook event: https://www.facebook.com/events/838962329850415/